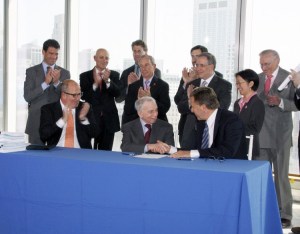 Yesterday afternoon, the predictable assortment of pols, real estate brokers and media were in attendance for the epic, inevitable signing of Condé Nast's lease at 1 World Trade Center. The John Hancocks only stoked the expectations for downtown's further recovery.
On a conference call after the signing with CB Richard Ellis' Mary Ann Tighe, who represented the tenant, she addressed the inevitable question: Is downtown the new midtown?
No, said Ms. Tighe, it's better! You can work in a shiny, glass tower to the sky, with arguably the best views in the city. What's more, you can live in one of those cheap n' chic FiDi condos and walk to work every morning.
Much has been written about Conde's ingenius terms of the deal with the Port Authority and the Durst Organization. Ms. Tighe wouldn't reveal much, but she did say Conde Nast was "rewarded for it. I'm not go anywhere near quantifying it. They're coming from a highly favorable deal and would only have done a highly favorable deal."
Mind-blowing as it is that Anna Wintour is going downtown, will landlords jump through such hoops for a tenant other than the likes of Conde? When, we asked Ms. Tighe, will we start seeing tenants move downtown without deep concessions?
"We're seeing larger commitments happen in the buildings that are on the west side of downtown and seeing the rents begin to tick up there. That's already in the works. We can see it in, for example, deals we're doing at 7 World Trade Center and World Financial Center," the broker said.
But as far as The Observer's concerned, until there's more than Conde, a Chinese bank and a bunch of government offices, downtown's office market recovery is still very much ongoing. Nonetheless, it was a good day for downtown. Nay, it was one of its very best days.
lkusisto@observer.com