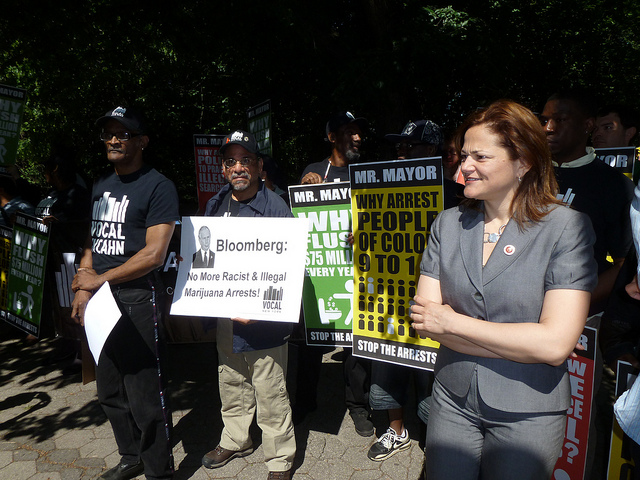 City Council members Letitia James, Melissa Mark Viverito and Jumaane Williams joined protesters this morning who gathered on 5th Avenue and 79th Street — the corner where Mayor Bloomberg's town house is located — to protest the city's record of arresting mostly African-American and Latino people for minor drug offenses.
They tried connecting the city's worsening economy with the expenses the city is paying to bust people for relatively low-level criminality.
Viverito: "During these tough economic times, when we are contemplating severe cuts to basic municipal and human services the $75 million we spend on marijuana arrests each year should be among the first places we look for savings."
Williams: "We wasted between $50-$100 million alone last year arresting individuals for low-level marijuana violations, all at a time where the Mayor proposes cutting essential services to our children and seniors."
James: "Our youth already have to worry about the lack of available jobs, which is difficult enough, the last thing they need is to be victims of illegal searches."
Also, the last official to bring their protest to the front door of Mayor Bloomberg's personal residence — that I can think of — is Vinny Gentile. While running for the City Council in 2003, he put a picture of Bloomberg's townhouse on a campaign flier. The two men are not particularly close.
Sean Barry, a spokesman for the group that organized the protest –Vocal NY — said police prevented protesters from gathering in front of the mayor's house.
In an email, he explained why the group held their event on the corner of 79th and 5th Ave. "Police wouldnt let us get any closer."