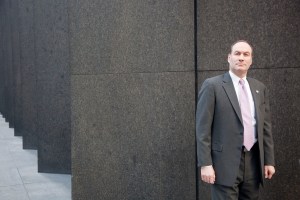 Jeffrey Wiesenfeld's mother doesn't approve.
"Vy are they bothering you?" Mr. Wiesenfeld said on Friday afternoon, channeling her Yiddish. "Vhat they want from you? They don't pay you. You sit there and they give you problems, aggravation, vhat do you need it for? Go home, see your daughter. Vhy are you sitting there until 8:30 and they making trouble for you?"
Mr. Wiesenfeld's most recent trouble began last Monday evening, when at the end of a lengthy City University of New York Board of Trustees meeting, he launched into a diatribe about Israel, the rising tide of anti-Semitism on campus, John Bolton, and finally, Tony Kushner-who was, along with about two dozen other eminences, up for an honorary degree. Mr. Wiesenfeld's fellow board members, a bit taken back by the fervor, quickly voted to table Mr. Kushner's nomination, approved the rest and promptly adjourned.
Sitting in a conference room at the wealth management firm Alliance Bernstein, down the hallway from his 39th floor office-which enjoys sweeping views of Midtown Manhattan and a bumper sticker that uses Barack Obama's iconic "O" logo to spell out "Oy Vey"-Mr. Wiesenfeld chopped the granite tabletop with the side of his open right hand and tried to explain himself.
"I'm not a militant guy. I come across as combative, but I don't gratuitously look to fight with people. If I'm confronted with something that is outrageous, I just can't look the other way. It's a compulsive type of behavior," he said.
At the board meeting, Mr. Wiesenfeld thought he would merely register his objection, the board would overrule him, and the commencement ceremonies at CUNY's 23 colleges would continue on as planned. Instead, however, his fellow board members took what he termed "the maximalist approach" and declined to grant Mr. Kushner his laurels.
What followed was the perfect teapot tempest in late spring in a city that found itself in a sudden news lull. When Mr. Wiesenfeld spoke to The Observer on Friday morning, Google News listed 373 articles devoted to the subject. By the weekend, The New York Times had devoted at least five stories to the imbroglio, including an appreciation of Mr. Kushner's playwriting oeuvre, a front page column in the New York section in which Mr. Wiesenfeld intimated that Palestinians were subhuman, and an editorial titled, "CUNY Shamed Itself." Graduate students started an around-the-clock blog called "Kushner Crisis." The writer Barbara Ehrenreich threatened to return her own honorary degree, jabbing the university by adding, "If I can find it."
An irate Mr. Kushner, angry that the board had distorted his views without giving him a chance for a rebuttal, told The Observer, "I have no intention of accepting an honorary degree from CUNY … I have lots of honorary degrees and hopefully if my work is good I will get more." Graduation ceremonies planned for later this month looked as if they could careen into a circus.
"What circus?" Mr. Wiesenfeld asked. "There is no circus. They're going to come, they're going to graduate, they're going to get their degrees. They'll have the same cast of characters from the administration and there will be one less honoree. That's it."
Mr. Wiesenfeld is not unfamiliar to controversy. In January he backed the firing of an adjunct professor of Middle Eastern politics who had made an academic study of suicide bombers. (After an outcry, and after the professor said that analysis did not equal commendation, the decision was reversed.) In 2009, he got into a screaming match with City Councilmember Charles Barron, a former Black Panther, at the ceremonial groundbreaking for a CUNY building that been destroyed in the 9/11 attacks. ("It was a provocation," Mr. Wiesenfeld said of the incident, in which he said he was upset that Mr. Barron spoke before his appointed time. "I looked around and saw a problem and no one was doing anything about it.")