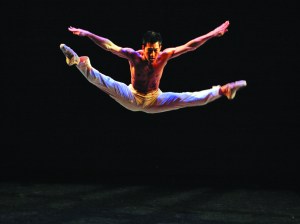 One of the eternal mysteries of ballet is how untalented choreographers find backers for their work, and then find good dancers to perform in it. Is it irresistible charm? Chutzpah? Pure determination? Blackmail? Or are so many supposedly knowledgeable people just plain blind?
The latest example of this phenomenon is 26-year-old Avi Scher, who for the second year in a row has succeeded in mounting a season of his work performed by dancers both insignificant and superb. I missed last year's event, but this time around there was no dodging the bullet–not with wonderful Carla Körbes on hand; ever since she emigrated from City Ballet to Pacific Northwest, we have to grab every opportunity we're given to see her.
There are various kinds of bad ballets, ranging from derivative-formulaic to trendy bang-bang athletic, and Scher has mastered them all, judging from a recent program at the Alvin Ailey Citigroup Theater. Körbes was trapped in something called Mirrors, a riff on narcissism, that began with old-timer Deborah Wingert, ex-City Ballet, preening and posturing in front of an invisible mirror in a paroxysm of self-love. Enter younger others, including Körbes, who closes the ballet doing the same grotesque thing. You see, her fate–like that of all dancers, presumably–will be to end up like white-haired Wingert, consumed by an exalted sense of self.
There was Utopia, all Rachmaninov ecstasy, featuring Misa Kuranaga, a highly polished Boston Ballet principal with a ravishing body and a raft of ballet-competition prizes including Moscow's "Hope of the World" award. Her partner in this unbearably predictable outing was Joseph Gatti, also from Boston–another ballet-competition winner and award-gatherer (including the Dame Ruth Railton Award for excellence in dance). Like most dancers who come up via the international-competition route, Kuranaga and Gatti know how to score points swiftly and effectively, but there was nothing in this choreography to suggest whether they might be capable of anything more. (Of the two, the odds favor Kuranaga.)
Worst in show was Classroom Fantasy–as the title suggests, yet another classroom ballet. This one attempted to be funny, in a kind of sub-sub-Robbins way, with not only Wingert (as the teacher) mugging disgracefully, but the little ones mugging, too. Or perhaps this is a class in mugging? (Mugging played a role in Mirrors, too, so maybe it's a basic element of Scher's vocabulary.)
Finally, DreamScapes, in three parts, for which Scher had corralled dancers on the level of Ana Sophia Scheller, Tyler Angle and Savannah Lowery from City Ballet and the ballerina Sofiane Sylve, now in San Francisco after her odd few years as a City Ballet principal. The big news is that she's cut her hair, and it's all fluffy. In a duet with Lowery, she looked as good as ever, though a more unlikely pair of women you'd be hard pressed to find–Sylve svelte, sharp, on the button; Lowery ample, relaxed, as always admirable in her resolve. A dark stage punctuated by much red lighting; drama with a capital D.
The program as a whole was clearly intended to show off Scher's diversity of approach, but what's the difference when there's never anything original or stimulating on view? You can't dance on empty any more than you can run on empty.
A very different gathering of dancers took the stage the day after I saw Scher. A modest new organization called Dance Against Cancer, founded and administered by Erin Fogarty and City Ballet principal Daniel Ulbricht, gave us a slate of short pieces or excerpts of longer pieces by choreographers as various as Balanchine, Christopher Wheeldon, Benjamin Millepied, Larry Keigwin and Lar Lubovich. The idea: To raise money for the American Cancer Society, and it's good to be able to report that $30,000 or so was raised.
The program itself was far from negligible, though needless to say, not every one of the 16 offerings was a glory. But in the spirit of the event, let's give the dross a free pass and focus on what was first-rate and/or fun.
• A solo to Dave Brubeck's "That's Alright" by Earl Mosley, danced by Ailey's wondrous Matthew Rushing–witty, glittering, in absolute control of the material (and the audience); a fabulous performance that as far as I was concerned could have gone on forever, or at least another couple of minutes.
• Four of Larry Keigwin's 2006 "Love Songs," sprinkled throughout the program: two set to Aretha, two to Roy Orbison. This is Keigwin at his jauntiest, New Yorkiest, twistiest, gender-bendingist. And those dancers of his know him inside-out–and when called for, upside-down.
• George Balanchine. "The Man I Love" duet from Who Cares? has seen better performances (Sterling Hyltin just doesn't get all the way in), and we've seen it a thousand times, but when you watch it carefully, up front and close, you recognize a masterpiece. Let's face it–there's no one choreographing on Balanchine's level today, and there never was before. It's always bracing to see that basic truth confirmed.
• A personal satisfaction: the first piece by Millepied I've ever felt had something to it. On the Other Side is a duet, half a dozen years old, staged here for Janie Taylor and Tyler Angle. I believe this dance–music by Philip Glass–was created for the Lyon Ballet, but it fits these City Ballet principals perfectly–Millepied understands and profits from Taylor's mysterious and elusive qualities, and Angle is a terrific partner for her. Perhaps Millepied is at his best when he's at his least ambitious.
• It was good to see Alex Wong back in fine fettle after the severe injury he suffered while competing in So You Think You Can Dance. He was an upbeat whirlwind–the whole show–in a quickie called 747.
• Wheeldon's After the Rain, with its standard City Ballet cast, Wendy Whelan and Craig Hall, and as effective as ever (almost).
• A wild tap sensation called Tatum Pole Boogie, choreographed and performed by Ulbricht. At City Ballet he's often so in the grip of his virtuosity that he doesn't bother representing the piece's intentions. (Think Balanchine's Tarantella.) Here he was free just to be himself–whirling, snapping, tapping, flashing–at his most thrilling, and reveling in it. In another day and age, he could have been a headliner in a Broadway revue.
Many of the dancers appeared in a short, touching film at the beginning of the program, describing their personal connections to cancer (a mother, a sister, a friend); telling why they felt compelled to be part of this estimable venture. (Yes, dancers are people, too.)
P.S. A question about next year's installment: Will it again be showcasing not one but two dancers named Attila? Is this a first?
editorial@observer.com