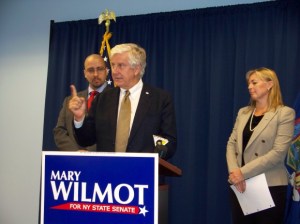 The wealthy Democratic donor who was once the finance chairman for the New York State Democratic Campaign Committee, Bill Samuels, said he's backing Bill de Blasio for mayor because, despite de Blasio's long ties to organized labor, he is actually a lot more amenable to the business community than people realize.
Samuels also said one of the other leading mayoral candidates, Congressman Anthony Weiner, is "too shrill" and is taking a "ridiculous" and "outrageous" stance against independent redistricting of legislative lines.
Samuels first vocalized his support for de Blasio's undeclared mayoral race during a speech at a Bronx Democratic club earlier this week.
"It was an unscripted moment," Samuels told me in an interview this afternoon. "It wasn't something planned."
"I think this guy is creative, transparent and has the ability to inspire all elements of the city, including the business community so we can continue our growth," said Samuels.
In his two terms at the City Council, and now as Public Advocate, De Blasio has worked closely with progressive groups like the labor-backed Working Families Party and New York Communities for Change — formally known as ACORN. Before entering office, he was the campaign manager for Hillary Clinton's Senate run in 2000, and before that, he served under Andrew Cuomo at HUD.
How de Blasio's history with labor and advocacy groups that are usually advocating for more government spending "is the question that I had to ask myself because I am a business person" said Samuels.
"I spent a lot of time with Bill. I like his social positions but I came away, as a business person, much more informed that, given a chance, people will be surprised at the even-handed approach," de Blasio has towards the business community, Samuels said.
Last year, de Blasio made news when he opposed higher taxes for businesses on Wall Street, something many of his allies in the Democratic Party and labor circles were calling for.
The two have spoken, Samuels says, on how to push for ethics and redistricting reform in Albany.
"I know the other candidates and am not uncomfortable with them," he said, referring to others expected to join the race: City Council Speaker Christine Quinn, City Comptroller John Liu, Manhattan Borough President Scott Stringer and 2009 Democratic Mayoral candidate Bill Thompson.
But there is one Democrat he has a problem with.
"I am uncomfortable with Weiner," said Samuels.
"For Weiner to stand up and publicly state he does not back independent redistricting, and it's a political process and should remain so, is ridiculous," Samuels fumed. "I just felt that was an irresponsible stance for  someone to take who wants to be mayor."
"Just outrageous," he added.
Weiner, like his mentor Senator Schumer, does not support independent redistricting, an isse that Samuels has been aggressively championing of late, along with former New York City Mayor Ed Koch and Governor Cuomo.
Even if they agreed on that issue, Samuels said there's another problem with the outspoken congressman.
"Right or wrong, he's too shrill," said Samuels, who referred to Weiner's outburst on the floor of Congress and combative interviews on cable news.
"We don't' need a divisive voice," said Samuels. "We need a good, calm manager in this city."
A spokesman for Weiner emailed this response to Samuels' comments: "Rep. Weiner is focused on getting things done and fighting hard in Washington for middle class New Yorkers and those folks struggling to make it."
Update: Democratic consultant Hank Sheinkopf — who helped Mayor Bloomberg's campaign push Weiner out of the 2009 mayoral race — emails this defense of the congressman.
"Silver spoon Samuels stoops to conquer the guy who positions himself as the fighter for the outerboroughs. Who do you thinks wins this fight: the guy with a silver spoon or the guy willing to get in your face?"
Update:  A spokesperson for Bill Samuels responds:
"Maybe the real reason that tired political consultant Hank Sheinkopf is really upset is that while Bill Samuels is putting his money towards reforming Albany and defeating corrupt politicians, Hank makes campaign contributions to them. Just last year, Sheinkopf made a personal donation to the campaign of  corrupt politician  Pedro Espada."