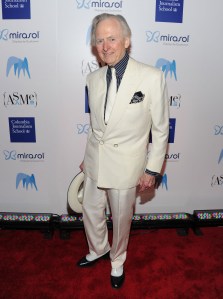 "It's good to see the journalism of death is alive and well," said New Yorker editor David Remnick as he accepted the public interest Ellie for Atul Gawande's morbid "Letting Go" at the National Magazine Awards on Monday.
The soiree at 583 Park Avenue had kicked off with a sober multimedia tribute to the late photojournalists Tim Hetherington and Chris Hondros. But unlike previous years, even a cascade of wine and self-congratulation could not keep crushing mortality at bay. It was everywhere!
Los Angeles magazine snagged the feature writing prize for "The End," an exploration of what befalls the body after it dies.
Christopher Hitchens's Vanity Fair essays on his battle with esophageal cancer won the columns and commentary award. In accepting, Graydon Carter paid tribute to his longtime friend and colleague, but ended on a light note. "He's made remarkable signs of recovery–he's lowered his intake of Scotch," Mr. Carter joked, "but he has developed a taste for sherry."
And then there were the undead, the editors not present–they'd been fired or pushed out–but whose work lived on in the approval of the American Society of Magazine Editors. Harper's editor Ellen Rosenbush accepted the award for reporting, although her predecessor Roger D. Hodge had edited the winning piece, and Times Magazine editor Hugo Lindgren took home two Ellies for pieces published under Gerry Marzorati. The subjects of their award-winning work? The mysterious suicides at Guantanamo Bay prison and the bedrooms of dead soldiers, respectively.
From the "Last Supper"-style press table looking over the balcony, the crowd was reminiscent of a circle of Dante's Inferno but the Transom was informed that the ballroom had been built by Christian Scientists, who believe that death itself can be staved off by the healing powers of prayer and virtue.
For the secular reader, longevity is all one can hope for. To that end, ASME honored Rodale's service titles, Women's and Men's Health, the latter for a piece called "I Want My Prostate Back." On stage, editor Dave Zinczenko launched into a public service announcement about prostate cancer. It was second only to Tom Wolfe's Creative Excellence Award acceptance speech in length.
Life among the living remains, as T. S. Eliot wrote, very long.
kstoeffel@observer.com