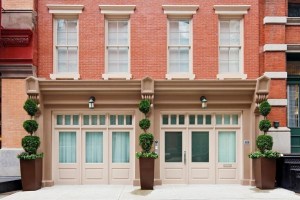 Has Lohanesque Dominique Strauss-Kahn finally settled in to a suitable home in which to be arrested?
After being booted from the Upper East Side, the philandering frog found an apartment in the Financial District, at 71 Broadway, where the neighbors were mortified by the attention. Something smaller, more discreet and, it turns out, far grander, was in order.
Messr. Strauss-Kahn, his wife, daughter and their six-figure security detail have settled into a 6,800-

square-foot townhouse at 153 Franklin Street in Tribeca. Not surprisingly, the neighbors are not happy here, either, but at least they don't have to share the elevator with the accused.
SLIDESHOW: DSK's Gilted Lily Pad. >>
The Observer profiled the home, now asking $13.9 million, last July, when we called it the perfect pad for a Zen master. Not sure DSK fits the bill, but the 27-foot-wide redbrick wonder certainly has plenty of amenities to bring him contentment: workout room, a movie theater, a bathroom with a steam bath and waterfall shower, and "Antique French wide plank oak floors," according to the Town Residential listing.
The best feature might be a walled roof garden, with "Japanese paper glass" screens, that should allow Messr. Strauss-Kahn to work on his tan without being spotted by the press. He could even go topless.
The most recent asking rent was $50,000.
Rikers this is not. Still, the horny toad remains unsatisfied, as his lawyer told the Daily News his client was "bored" with the whole affair.
The owner of the property knows his way around a courtroom, as well.
Michael Marvisi bought the place for $6.79 million in 2007, and then had it renovated by Leopoldo Rosati before putting it back on the market last year for twice what he paid. Mr. Marvisi was hit with a $16 million lawsuit from Louis Vuitton and Coach for allowing vendors to sell counterfeit purses out of one of his buildings, and he also sued the producers of America's Next Top Model for $500,000 because the would-be catwalkers trashed one of his lofts.
SLIDESHOW: DSK's Gilted Lily Pad. >>