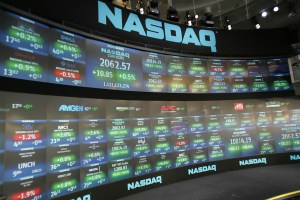 In the parlance of basketball, "and one" for the Department of Justice. Via BusinessWeek, not only has a target of their charges plead guilty to stock fraud, but they also charged him today with multiple instances of insider trading, and he also happens to be the former managing director of Nasdaq. Also, his name is Donald Johnson, and thus, opens up even more opportunities for "Fraudy Stockett" one-liners, if you have them.
Mr. Johnson's guilty plea to securties fraud is an admission of buying and selling five Nasdaq-listed companies from information gleaned via his gig over a period of three years, from 2006 to 2009. The new charges against him thrust him in an especially "ballsy" light, given both the worth of said trades allegedly made via inside information – $640,000 – and the way Mr. Johnson traded under an account in his wife's name, and traded from his desk at work. Mr. Johnson's wife – Dalila Lopez – has become the SEC's "relief defendent" in the new charges against Johnson "for the purpose of recovering illicit profits in her possession." The "fox in the henhouse" – as Assistant Attorney General Lanny Breuer referred to Mr. Johnson – is no doubt in the proverbial doghouse tonight as well.
Finally, we're certainly not clairevoyants of any stripe, but it certainly sounds like Mr. Johnson may have been ratted out by one of the sources of his information, given the light tone taken to them by the SEC's press release:
The executives who shared nonpublic information with Johnson did so based on the understanding that it would be kept confidential and that Johnson could not use the information for his personal benefit.
Reminder: Bernie Madoff, who's currently serving out a lengthy prison sentence for running a ponzi scheme somewhere in the high-two to lower-three digit range, as the chairman of Nasdaq, likely crossed paths with Mr. Johnson in some capacity. So there's that.
fkamer@observer.com | On Twitter