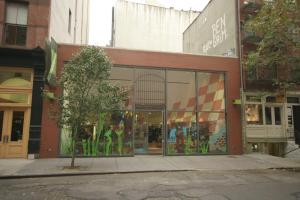 Jose Freire was nowhere to be found. It was the inaugural night of his second Team gallery, on Wooster Street in SoHo. The space, filled with stenciled paintings by David Ratcliff, was teeming with guests waiting to congratulate him. Finally, Freire materialized–standing nervously behind a metal dog leash that served as a velvet rope to the back room. "Look at him," said artist Banks Violette, represented by Freire, to a friend. "There's sheer panic in his eyes."
It can't be business; Art in America magazine's Web site had news that Freire had already sold half of Ratcliff's show. Opening night jitters? Freire's relocations over the years, including the new Team branch, a major step for him, read like chapters in the story of the exigencies of Manhattan real estate, as they apply to art galleries. Freire first opened in the East Village in 1987, during a market boom, moving to Soho when a scene coalesced there. After lean years during the early-90's recession, he moved to Chelsea when retail forced a gallery exodus, and hightailed it back to Soho in 2005, after hundreds of galleries turned Chelsea into an art mall. He opened on Grand Street; his second space is around the corner, on Wooster.
If the Wooster-Grand configuration rings a bell, it's because it mirrors that of longtime Soho dealer Jeffrey Deitch, who closed his gallery last June to become director of the Los Angeles Museum of Contemporary Art. For years, Deitch galvanized downtown with eye-grabbing exhibitions and kooky events like his annual "Art Parade."
When Freire moved back to Soho, he purposely pitched his tent across from Deitch, and was surprised when his neighbor, who knew he was counting on spillover audience, split. "It's a huge loss for downtown not to have Jeffrey here," he said, in a grave tone belied by a mischievous smile that perhaps alluded to the fact that Deitch's move ended up being to Freire's advantage; as Art in America reported, Deitch had been negotiating on what became Freire's second space after his own Grand Street digs were condemned.
Like Deitch, the Spain-born, Bronx- and New Jersey-raised Freire has a knack for connecting with youth subcultures, and spotting talent, though his aesthetic leans in a darker, goth-er direction. He has long towed the line between businessman and impish provocateur; few shows are without a frisson of controversy. Last September, he exhibited a video and photographs by Spanish artist Santiago Sierra showing interracial couples having sex. In April he displayed the paintings based on pornographic images that nearly destroyed Marilyn Minter's career in the 80's. He supported the idiosyncratic minimalism of the late Steven Parrino when it didn't have many takers; after Parrino died in a motorcycle accident six years ago, his estate went to megadealer Gagosian, and the work's prices shot from tens of thousands of dollars to a cool million. But most Team artists have stuck with Freire, and grown. New media artist Cory Arcangel's solo show at the Whitney Museum opens this month.
Keeping up with their artists' success is one reason dealers expand; there is the looming threat of poachers. But you get the feeling Freire would never go for a Gagosian-style global juggernaut. Last fall, an interviewer asked why he didn't open a Berlin outpost. "I am, quite simply, madly in love with New York," he declared by way of reply. "Always have been. I never get tired of it."
Last Thursday, the eve of New York Gallery Week, was good timing for his inauguration. At the Grand Street gallery, the crowd, gingerly navigating around stacks of posters laid on the floor by Danish artist Jakob Kolding, was vintage Team: collectors rubbed shoulders with 20-somethings in skinny jeans sipping from Heineken cans and leaning skateboards against the walls.
Meanwhile, on Wooster Street, Ratcliff seemed as panicky as Freire, soothed only by his toddler daughter tickling him with a pink feather. "I'm honored to be the first to show in the new space. It's just a huge vote of confidence from Jose," he says. He likes the ground-floor former jeans store fronted by a floor-to-ceiling glass facade. "It's amazing how visible it is." Visible enough to attract big names on a competitive evening–including punk instigator Richard Hell and powerhouse dealer Barbara Gladstone, as well as Team artists like Stanley Whitney, Slater Bradley, Arcangel and Ryan McGinley.
Freire speaks softy but intently. He pauses to measure his words. Sitting in the mostly empty storage area of the new gallery, he was calmer now that the opening was under way. "I'm relieved," he said. The second space will allow him to show more art for longer periods of time. He's planning six more shows a year and an annual project spanning both spaces. Sculptures by the recently deceased Greek artist Vlassis Caniaris are slated for September. "The new space allows us to grow the roster and the potential for networking," he explained.
He realized he needed additional square footage last fall, when he exhibited Sierra. "He made a body of work for a gallery in Europe, and I had only enough space to show two-thirds of the project. Even though the part that I showed felt very complete and no one knew that there were pieces missing, I felt that I failed," he said. Thus began a hunt that took him on a tour of downtown's art districts–East Village, Tribeca, Lower East Side, Bowery, and yes, even Chelsea. He found what he was looking for in his own back yard. "It was perfect, and when I find something perfect, I'm always very suspicious," he said. "So we spent a lot of time looking at other possibilities before we settled on this."
Working outside of the main gallery hub in Chelsea doesn't bother him. "We're successful here. And it's because we're here, not despite it." His clients, he said, love the neighborhood. Especially the Europeans, who in his mind enjoy the history and look of the area. "I find that curators and collectors have no problem navigating here," he said. Not for this picky eater the Chelsea smorgasbord. "Whenever I go to Chelsea I don't think I need to see 50 shows just because I can. I go with a small piece of paper and maybe there's five shows written on it. I'm not going to see something just because it's on the same block, and I think a lot of the audience of this gallery think that way."
Freire wasn't slighting his colleagues; he's more likely to collaborate. He's shared Banks Violette for a joint show with Gladstone, in Chelsea. Minter's exhibition was a one-off; she's represented by Salon 94, which runs spaces on the Upper East and Lower East Sides. "The show was Jose's idea," Minter said. "There was no payoff for him. Most of the works were sold already. He just wanted to get them out there." And although Minter said their relationship has been rocky in the past, she admires him for his humility and bold moves. "He takes on emerging, risky art," she explained. "He loves transgression. He'd show things that no one else is willing to show, and he doesn't want to be the center of attention. For a lot of the dealers, the artists are sort of an extension. He's thinking about steering his artists from making mistakes and backing them when they take risks. His scene is very idiosyncratic, without seemingly needing any back up."
After the opening, Freire held a private dinner in the new gallery. He dimmed the lights and puts on disco music. "I've been really stressed and I'm glad it's over, so now I can play," he began his toast. "I always tell artists that if a gallerist says to them he's like family, they should run. But to a certain extent we are. I wouldn't be here without my artists." He asked those present to stand up to be applauded, and they repayed him in the same currency of festive glass-raising. Bradley strode over to give him a kiss. Table talk ranged from the weight of cash to the Kentucky Derby, which Bradley attended. He'd call his horse Never Bet Against Me.
It wouldn't be a bad slogan for Freire. "Jose is like a phoenix rising from the ashes," said Minter. "Some people crash and burn and you never hear from them again. But living is the best revenge."
Dessert is served, and Freire stepped outside to hang on the sidewalk with the smokers, even though he doesn't light up himself. It's Cinco de Mayo, and as he noted, also Karl Marx's birthday. Dutch dealer Gabriel Rolt fact-checks on his iPhone, proclaiming Freire correct. Finally pleased, Freire relaxed and leaned on the glass door to his new gallery, surveying his modest kingdom. Pasted on the door, next to his name, was a smiling emoticon.
editorial@observer.com