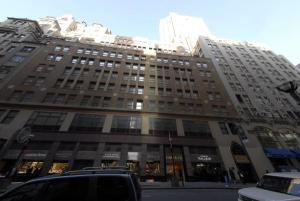 Gary Barnett has scored some big victories in the Diamond District of late, but in this case Extell's loss is the World Diamond Tower's gain.
Mr. Barnett, a former diamond dealer, bought 20 West 47th Street earlier this winter for $73 million in a judicial auction. But one of his diamond dealer tenants (a rare gem these days with the city's diamond industry struggling) has moved its headquarters to 580 Fifth Avenue. Nationally regarded diamond cutter Jack Reiss has taken 3,600 square feet for 10 years, one of the last remaining spaces in the building.
"He's one of the few people left that actually manufacturers diamonds," said Kenneth Kahn, an executive manager in the building. The building is also home to Julius Klein, another major diamond supplier. Asking rents are in the mid-$50s per square foot.
"We've been on this block since 1978," said Mr. Kahn. "We've seen the good, the bad and the ugly." What of the International Gem Tower going vertical just down the street, and Mr. Barnett designs to re-develop the neighborhood?
"We're not opposed to competition," said Mr. Kahn. "But Fifth Avenue is Fifth Avenue. You're not going to get Fifth Avenue on 47th Street." Touche.
lkusisto@observer.com