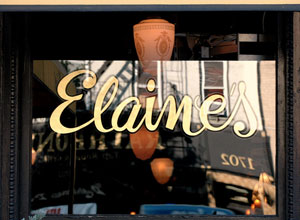 Aging New York literati may still be praying for a savior to swoop in and save Elaine's, but Graydon Carter will not be making any eleventh-hour power purchases.
The Upper East Side ink-stained parlor announced it would close this Thursday, May 26, pouring its last martini nearly 50 years after the pugnacious and huge-hearted Elaine Kaufman opened the joint that bore her name. Ms. Kaufman died last December after decades of playing patron, den mother, and protectress to her star-studded clientele.
Some pointed to Mr. Carter, editor of Vanity Fair, as the heir apparent most appropriate to run the uptown show. Carter-owned restaurants The Waverly Inn and Monkey Bar are cosmic heirs to Elaine's legacy; naturally, word spread that Mr. Carter was heavy into a deal for the place with like-minded restaurteurs-about-town Ken Friedman and Ken Aretsky (his Monkey Bar partner).
It was, but is no longer the case. Reached by The Observer by phone this afternoon, Mr. Carter indicated that he's no longer involved in any negotiation.
"The partners and myself have made no progress," Mr. Carter told The Observer. "I know for Ken [Friedman] and myself it was really a matter of geography. If you live downtown, 89th and 2nd Avenue is really a serious hike, and ultimately, that was the deciding factor."
He added that he can't forsee how any person could run the restaurant with the flair of its former owner.
"God knows I look good in a muumuu, but I don't think anyone could fill Elaine's shoes," Mr. Carter said.
We reached manager Diane Becker before what is bound to be another jam-packed night at Elaine's — don't even try to get a table, it's booked solid and the phone was busy every time we called.
Ms. Becker said negotiations with Mr. Carter never got off the ground."He did a walk-through he never but spoke to our lawyers," she told The Observer. "There was never any attempt to buy the place. He walked through it once that's it."
The doors will lock after last call early Friday morning, but there's a chance they could open again. Neal Sroka, an agent working on the sale for Prudential Douglas Elliman, confirmed that there were "over a dozen" buyers interested in the property, some of whom may decide to keep its name and charm intact.
But Mr. Carter isn't taking any chances. When asked if he would stop by the restaurant — which he's been eating at continuously since his first week in New York — before it closes, the Vanity Fair editor responded at once.
"I will," he said. "Absolutely."