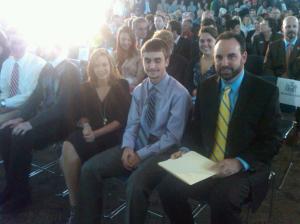 SYRACUSE — Seated in the front row for the first speech of Andrew Cuomo's statewide tour is Chris Brown, superintendent of West Genesee Central School, and his son, Ben, along with fellow students.
"We're the wage-freeze district," Brown, the superintendent told me.
He said he doesn't necessarily agree with Cuomo's education cuts, but "he's the boss" and "we're going to work within his constraints."
The district is looking at laying off 52 staffers, he said.