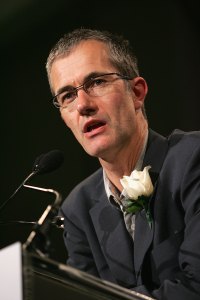 Last night the British writer and essayist Geoff Dyer gave a reading at McNally Jackson bookstore in Soho. As it usually does when Geoff Dyer comes to New York, the conversation quickly turned to Doughnut Plant, and whether Mr. Dyer had sought out his preferred vanilla bean doughnut since arriving in New York only a few hours before. He admitted that he had found his vanilla bean doughnut at the Chelsea Hotel and then dropped this shocker: the long sought after and dreamed of doughnut turned out to be "too sweet."
The crowd at the reading processed this information silently. Here was the man who had once written "our lives are actually made up of lots of tiny searches for things like a CD we are not sick of, an out-of-print edition of Phoenix, a picture of Lawrence that I saw when I was seventeen, another identical pair of suede shoes to the ones I am wearing now, even, I suppose, a cornetto integrale, ideally, a place where they serve perfect cornetti integrali each day without fail." He had told us, in other words, that life was only so many searches for the perfect pastry, along with some other stuff. And then the pastry is too sweet.
"I'm not even sure I want one tomorrow," he said.
Mr. Dyer was behind a podium set up in front of the "Ideas" section of McNally Jackson, and therefore stood before a backdrop of book spines that prominently displayed "BADIOU," "WHY MARX WAS RIGHT"and the distinctive green and orange spine of Gayatri Spivak's translation of Derrida's Of Grammatology. He was introduced by the novelist Sam Lipsyte, who described Mr. Dyer's work as "gender-bending." He meant genre. Their respective statures recalled Laurel and Hardy.
During the reading The Observer had a pen and a relatively clean receipt from Amy's Bread Company (for one peanut butter and jelly sandwich and one Arnold Palmer) on which to take notes. The only note The Observer ended up taking, however, was that Geoff Dyer, when writing books, tries "keeping knowledge only fractionally ahead of the writing."
Then The Observer just started writing down names every time Mr. Dyer quoted someone, which happened roughly every three minutes, beginning with the people he quoted in the essay he read about going to the couture shows in Paris from his new collection, Otherwise Known as the Human Condition, and then moving on to the writers he quoted from memory in the Q and A.
Here is the list, which took up most of the receipt and therefore is not in any particular order, and probably not even exhaustive:
1. Mark Doty (who provided the following epigraph to Mr. Dyer's essay on the couture shows: "The world's made fabulous / by fabulous clothes.")
2. Frank Gehry
3. Philip Larkin
4. Don Delillo (Mr. Dyer quoted the following: "her face conveyed the suggestion of lifelong bereavement over the death of a pet rabbit.")
5. Jim Morrison
6. Nietzsche
7. D.H. Lawrence's Sons and Lovers
8. F. Scott Fitzgerald's Tender Is the Night
9. Nicholson Baker
10. Tony Judt (who came up when Mr. Dyer commented on "the incredible regression in social mobility" in Britain.)
11. T.C. Boyle's Budding Prospects
12. Albert Camus' Lyrical and Critical Essays
13. Jonathan Franzen (Mr. Dyer recalled something a friend said about Mr. Franzen: "he suffers so you don't have to.")
14. Sebastian Faulks
15. Thomas Mann
16. "Borgesian"
17. Charles Dickens' Great Expectations
18. Rebecca West's Black Lamb and Grey Falcon: "I like her tone."
19. Julian Barnes
20. Martin Amis
21. Alan Hollinghurst (Mr. Dyer called him "the greatest straight-down-the-line English novelist," remembering with particular fondness the description, "knob-flaunting speedo.")
22. Renata Adler's Speedboat
23. John Updike
24. Thomas Bernhardt
The discussion ended with a member of the audience asking an extended rambling question about how a British man musters the confidence to write about American jazz with authority, and some other stuff that The Observer stopped paying attention to in favor of examining a book shelved next to her chair called Insectopedia, until another audience member kindly interrupted to summarize the question as "Where do you get off?" To which Mr. Dyer replied, "On the beach in Mexico."
Afterward, a McNally Jackson representative told Mr. Dyer he was entitled to one free book for his pains. He requested and received The Essential Schopenhauer.