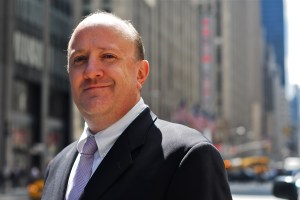 On a sun-kissed Thursday afternoon, Gerard Kiley arrived at Grubb & Ellis' new Manhattan headquarters. It was the broker's first visit to the Avenue of the Americas office, but it certainly wouldn't be his last.
Indeed, for a broker who focuses squarely on Westchester and Fairfield counties, the 25-year commercial real estate pro's thrice-weekly, 45-minute commutes into midtown are de rigueur–even during the slump. Hardly a surprise to New York's real estate community, the tri-state region has always been an interconnected knot of corporate hubs and satellite offices, fastened together like so many train stations along Metro North, New Jersey Transit or the LIRR.
"Fairfield and Westchester are both all about the executive's geography–it's where these guys live and it's where they want their offices," said Mr. Kiley, 46, a managing director with Grubb & Ellis whose team joined the company in September. "So it's like a pyramid. If the executives live in New Canaan or even Greenwich, their satellite offices are going to be in Fairfield. And it's all driven by New York's metro market."
As New York City's office leasing continues to see modest upticks in net effective rents, so too are landlords' concessions starting to soften. In Westchester, where PepsiCo inked a 540,000-square-foot renewal at its nine-story headquarters, leasing has surged in the first quarter of 2011 to its highest levels since 2005. Demand for Class B space as some tenants look to downgrade, meanwhile, has real estate observers predicting higher rental rates in the very near future.
Still, in Fairfield, leasing velocity has remained sluggish, with deal volume decreasing sharply, by 39 percent, in the first quarter of 2011 compared to the same time last year. The 586,555 feet of transactions recorded for the quarter is the lowest since early 2009.
It's those market idiosyncrasies that keep Mr. Kiley and colleagues Gerard Smith, Gregory Shaughnessy, Andrew Carney and Patrick Bisceglia running back and forth across Manhattan and Westchester and Fairfield counties.
"You know what happened? In August of 2007 somebody shut off the clicker and took the battery out of it," said Mr. Kiley of the Fairfield County market. "And the TV didn't go back on until six months ago. It was literally frozen."
Since the screen jolted back into focus, however, his team, which specializes in investment sales and leasing, has been tasked with an array of searches.
In Hartford and New Haven County, Mr. Kiley and his group have been tapped to seek in excess of 100,000 feet of space for tenants while also marketing the sale of office and multifamily assets across Fairfield. Additionally, office leasing at 30 Oak Street began earlier this year. In New York, meanwhile, Mr. Kiley is working on behalf of cutlery company Zwilling J.A. Henckels to dispose of its North American assembly facility in Hawthorne while also managing the site selection for the company's new home somewhere between White Plains and Hawthorne along I-287.
All the while, Mr. Kiley has overseen a decades' worth of deals for GE Capital, including leasing and disposition of an asset at 100 Prospect Street in 2006, a full repositioning of space at 600 Summer Street, and the sale of its huge Harrison Court Complex in Westchester back in 2001. More deals are likely soon to come, he said.
"In the first quarter of 2010, we were still frozen, but we were out of the ice chest," Mr. Kiley said. "By the second quarter we were actually noticing that we had a lot of activity. And, now, the due diligence is starting to pay off. We slung-shot right into the first quarter of 2011 as if it was September 2007."
Speaking of 2007–a moment in time typically referred to as the peak of the real estate market–Mr. Kiley was still presiding over The Alliance Group, the successful boutique commercial real estate firm he founded back in 2002.
When the market crashed, however, he and his group began shopping the firm around to larger companies in an effort to gain a larger platform. In 2010, he rolled the group into Grubb. "When you're in the suburbs you don't have 350 million square feet of office space–we have around 10 million of good Class A space," said Mr. Kiley, a Boston University graduate who is also a licensed real estate broker in Massachusetts. "So our strengths have always been really project-oriented."
Born to a large Irish-Italian family in Greenwich and raised in Shelton, Conn., Mr. Kiley got his earliest whiff of the real estate industry from his grandfather, who ran a road construction company. As he became older, the ingénue joined the business amidst the mid-1990s building boom.
"So, eight or nine years old, I'm sitting in some guy's lap, pulling all the levers, pushing all the buttons, trying to dig a hole and probably making a mess," Mr. Kiley recalled last month. "And there was something about the construction business that I always wanted to be a part of. But my grandfather, being the guy he was, always tried pushing his son and me away from the business, but all he really did was suck us all in."
After working a backhoe at Governors Island, Mr. Kiley joined The Galbreath Company, where he worked until 1997, when LaSalle Partners acquired the firm. Not one to procrastinate, the broker immediately went on to co-launch Antares Real Estate Services with a former Galbreath employee.
The father of three grown children–among them an aspiring actor and a musician, neither with designs on the real estate world–Mr. Kiley lives with his wife in Stamford. An avid golfer and fisherman, he spends many of his off hours in Long Island Sound, angling for striped bass early in the morning.
"I like playing golf, but I'd rather be fishing," Mr. Kiley said."Any morning at 4:30, when the water's like glass."
jsederstrom@observer.com