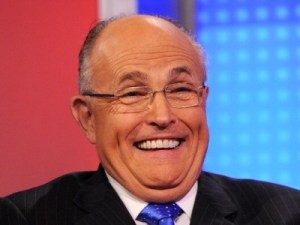 A month after Rudy Giuliani told the Washington Times he was "not actively considering" a presidential run, a new CNN poll shows him leading the G.O.P. field.
Among Republicans and independents who lean that way, Giuliani receives 16 percent of the vote, followed by Mitt Romney with 15, and Sarah Palin with 13. The early polls are, of course, largely a function of name recognition, with the top 3 all having previously been in the national spotlight. (Though it's not entirely name recognition; Atlanta businessman Herman Cain gets 10 percent–or 2 percent more than former House Speaker Newt Gingrich.)
Asked how excited they would be if Giuliani won the Republican nomination, 27 percent said they would be "enthusiastic," which is one better than Palin. Another 41 percent said they would be "pleased but not enthusiastic;" 24 percent would be "displeased but not upset; and 7 percent are "upset" at the prospect. That's significantly better than Palin or Gingrich, and more or less on par with Romney.
The CNN poll comes amid signs that Rudy might be reconsidering whether to join the race. Long Island Congressman Peter King said Giuliani is now "inclined to run," and the former mayor has another trip to New Hampshire planned for next week.
Giuliani has said he would campaign there aggressively if he did decide to run, unlike four years ago when he all but pulled out of the state and finished a distant fourth.