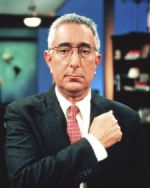 Manhattan Assemblywoman Deborah Glick is out with a letter today to CBS head Leslie Moonves calling on the network to dump Ben Stein as a commentator.
Stein, best remembered for his attendance taking in Ferris Bueller's Day Off, recently got into trouble for a piece he wrote in the conservative magazine The American Spectator in which he cast doubt on the Dominique Strauss-Kahn story, saying that the IMF's head background as an economist meant that he was likely innocent and that as a "short fat old man" he couldn't have performed the violent sex acts he was accused of.
Glick wonders why Jimmy "The Greek" Snyder's racist comments were a fireable offense for the network but not Stein's "so clearly sexist" one.
Full letter below:
Leslie Moonves
CBS Headquarters
51 W. 52nd Street
New York, NY 10019-6188
Dear Moonves,
I was extremely offended by the comments offered by CBS Sunday Morning
Commentary contributor Ben Stein regarding the alleged sexual assault by
Dominique Strauss Kahn. Regardless of Kahn's guilt or innocence, it is
horrifying that in this day and age Stein can calmly question whether or not
anyone could be forced to have sex against their will without the presence
of a weapon. As he stated in the American Spectator on May 17,
"The prosecutors say that Mr. Strauss-Kahn "forced" the complainant to have
oral and other sex with him. How? Did he have a gun? Did he have a knife?
He's a short fat old man. They were in a hotel with people passing by the
room constantly, if it's anything like the many hotels I am in. How did he
intimidate her in that situation? And if he was so intimidating, why did she
immediately feel un-intimidated enough to alert the authorities as to her
story?"
As someone who has been a fan of your program for many years, I am appalled
that CBS has been silent about Stein's offensive and insensitive remarks and
I am curious if this silence represents approval? I assume that it does or
otherwise CBS would have made statements to the contrary as it did when
Jimmy "The Greek" Snyder was fired over remarks he made that were deemed
racist. And yet Ben Stein's remarks, so clearly sexist in their nature, are
allowed to stand and Ben Stein goes unpunished.
I call on you to stop accepting contributions from Ben Stein on CBS until he
publicly apologizes for his ignorant and offensive statement. The law
recognizes that rape can and does occur even without the use of a weapon.
Last year more than 200,000 women were raped by their intimate partners
without the presence of a weapon. If Mr. Stein is interested in learning
more about this subject I would be happy to introduce him to one of the many.
Deborah J. Glick
New York State Assemblymember
66th District