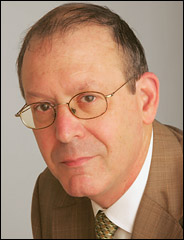 New York Times columnist Clyde Haberman is taking his act to the Internet.
Haberman emailed friends this evening to announce that after a somewhat abrupt ending of his 16-year print column last month, he'll continue writing for The Times.
Haberman:
[S]tarting Monday I will begin a new column, offering my take on the day's dominant news events in New York on the Times's online blog, City Room…
The column will appear four days a week, Monday to Thursday, the goal being to have it posted in the 8:30 to 9 a.m. range. The typical column will be somewhat shorter than that of my old 'NYC' column, probably in the 500- to 600-word range, though given the Web's accordion-like flexibility, the length could vary, depending on events.
NYC was largely spun off the news, but not always. This column is intended to be news-focused full time, with perhaps fewer opportunities to wander off into something that is simply an interesting scene, or strikes me as poignant or unusual or even ludicrous. But as with any new enterprise, it will probably evolve over time.
It will, by the way, be called "The Day." It has a simplicity that appeals to me. It also is a nod to a great old newspaper movie, "Deadline U.S.A.," with Humphrey Bogart. The paper that he edited was called The Day.
Along with a deep knowledge of the city, Haberman's writing never lost focus of the city's place in America and the world. (He was once the City Hall bureau chief for The Times in the pre-Bloomberg era and was a foreign correspondent for the paper during the entire administration of Governor Mario Cuomo.)
He's also found a way to make his points (ask him about term limits) while also making for some pleasurable reading. More than once I've heard someone other than me burst out into laughter at reading Haberman's columns.
Which, thankfully, we all get to keep doing.