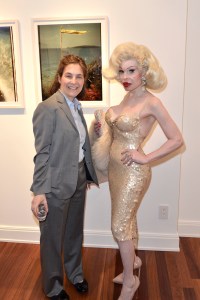 There are certain signs that spring has arrived in New York City: pudgy, pale Wall Street bankers start running along the West Side highway, hipsters sip iced coffee in the park and the seersucker suit makes its first appearance on the fashion circuit. Hamish Bowles, European Editor of Vogue, wore a moss-colored seersucker suit with an olive-green shirt and purple tie to the "A Posh Affair" fashion fundraiser, which benefits the Lighthouse Foundation. The POSH sale, which has been going for almost 40 years, celebrated vintage before it was cool and sells "gently worn designer clothing." Mr. Bowles, one of the hosts of the evening, told us about previous POSH sales, "One year they had all the items from Nan Kempner's estate, you can imagine how great that was."
The POSH affair was just that, a venn diagram of bold-face names from New York High Society and Haute Fashion crowds. The dress code for the evening was POSH and the crowd did not disappoint. Iris Apel was a resplendent bird of paradise in chartreuse silk Ralph Rucci, festooned with costume jewelry and her signature black-rimmed glasses. Carolina and Reinaldo Herrera drifted in a little later and chatted with Vanity Fair's Bob Colacello and Lady Jane Spencer-Churchill. Emilia and Pepe Fanjul were on hand to support their friend and fellow host, Pauline Pitt. Mrs. Pitt's daughters were also in attendance: Dr. Samantha Boardman Rosen and Serena Boardman Theodoracopulos. Waiters wafted around pushing through the long palm leaves that hung in front of them like stage curtains, bearing flutes of champagne and full-to-the-brim glass es of cold white wine.
Lorry Newhouse was in a floral creation by Rodarte. Her husband Michael, who runs the newspaper division of Condé Nast, looked natty in a striped purple suit. When we complimented him on his choice, with the speed of a flasher, he showed us the bordello-red lining of his jacket.
When the recipient of the POSH Fashion Visionary Award herself arrived, Vanity Fair Special Correspondent Amy Fine Collins, she was instantly swarmed by admirers. With her raven-black elfin hair and a designer's dream slim physique, Ms. Fine Collins takes very classic clothes and makes them cool. Last night was no exception, as she arrived in hot pink Carolina Herrera accessorized with dangling emerald and diamond earrings. She was accompanied by her daughter, Flora, a poised 17-year-old. "I'm wearing Alice and Olivia" she said, "except for these," she noted pointing at her rhinestone covered spike heels, "these are hers" she said pointing to her mother. (Later we looked at the label, "Manolo Blahnik," Flora said, sounding almost apologetic.)
Designer Naeem Khan chatted to Anthony Todd with his wife Ranjana, who wore a dress of her own creation that could have come straight from the set of Pirates of the Caribbean, complete with sheer netting and shells. They mused on why the sale was called POSH, "I don't know, but it's a word we use in India a lot," said Ranjana, "we were all taught the Queen's English."
Stacey Bendet had taken POSH to a new level by carrying her own flask full of Champagne. "It's Caitlin's birthday," she said by way of an excuse, pointing to one of the girls, her fingernails painted in jail-stripe black and white.
Guests were finally herded into the Plaza's Belle Époque-inspired dining room. The Observer sat next to the king of fur, Dennis Basso, who told us that he used to volunteer for Lighthouse and read to the blind. "I thought I'd be reading them journals, magazines and so forth. They gave me a man who was studying microbiology and I had to read these incredibly complicated scientific tracts to him. Every other word, he'd have to make me stop and explain it to me. The blind man was telling me how to read! We soon decided that it wasn't for me and that I was much better at recording readings."
The evening's hosts got up one by one to make speeches. Co-founder and Lifetime Visionary award winner Kim Baker Campbell made a sweetly rambling speech in her 1930's movie star tones about her "entire Baker family" and named them all, including step-children.
Bergdorf Goodman's SVP, Women's Fashion Director Linda Fargo also received a Lifestyle Visionary award and finally explained the origins of the word POSH. It came from traveling in the best cabins on the legendary Cunard Cruise Line to from England to India, those which avoided the glare of the sun: Port Out and Starboard Home.
As the clock stuck the witching hour (in this case about 10:15) guests drifted out the door, their multi-colored frocks spread out into New York's city streets like a rainbow fan. –Daisy Prince