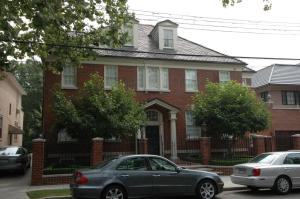 Last week, Brooklyn saw its first eight-figure home sale of the year, a rare event that has occurred only once since the collapse of Lehman, and no more than a dozen times in the borough's history. The previous record for the year was $6 million, also a hefty sum for a property outside Manhattan. Neither property, however, is anything to write home about. (Assuming you do write, you do call.) The reason for the exorbitant prices is surprisingly simple and as old as the Torah: Shabbat, the Jewish day of rest. All of these houses are walking distance from shul.
This corner of Gravesend is home to a prosperous Sephardic Jewish community. Many residents work in the diamond and garment industries, and the homes located between the synagogues and yeshivas that line the surrounding boulevards are hotly contested–remember, no cars or subways on the Sabbath.
The homes' imposing size is a matter of living space, but also naches, as each family tries to outdo the neighbors, tearing down big homes for even bigger ones that often bump right up to the property lines.
The most expensive sale ever in the borough was in this 15-block swath, Brooklyn's own Beverly Hills. The $11 million purchase, in 2003, was for a 3,600-square-foot spread on a double lot that was torn down straight away to make way for a 10,400-square-foot golem of a domicile.
Gaudy as they may be, these stucco hangars serve a practical purpose. "If your mandate is be fruitful and multiply, and you've got eight or 10 kids, you run into a supply-and-demand issue very quickly," observed one top Brooklyn real estate executive. He spoke anonymously for fear of running afoul of fair housing laws.–Matt Chaban