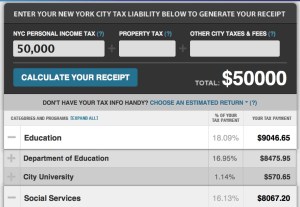 Manhattan Borough President Scott Stringer is out with an app that lets New York City taxpayers see, specifically, where their money is going in the budget.
For example, someone paying $50,000 in taxes can see that $232.05 of that money goes to the Dept. of Finance; $95.35 goes to the Board of Elections, $56.45 goes to the City Council. and $73.70 goes to the mayor's office.
And that $73.70 figure going to the mayor's office is broken down even further:
15 cents to the Commission on Women's Issues

30 cents to Office for People with Disabilities

90 cents to NYC Liaison to the United Nations

$7.35 to the Office of Labor Relations

$30.20 to the Office of the Mayor
Stringer's app is similar to the Federal Taxpayer Receipt the White House rolled around tax time last month.
It's a bit jarring to compare agencies and offices when there is a dollar figure next to them. It should be noted that this doesn't take into account other funding streams that support some of these offices, like federal or state funding, tickets and licensing fees, etc.
But it's fun to plug in some numbers and see where your nickels land.