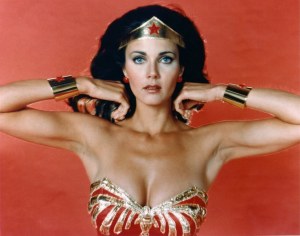 "You look hot." The first words Lynda Carter spoke to me were a variation of the same ones I had spent more than 30 years waiting to say to her. But Ms. Carter did not mean "hot" that way. What she meant was that I was a mess, and sweating. By the time my long wait to meet her was over–it ended at the Thalia restaurant in midtown on a humid afternoon last Wednesday–I was in rough shape.
I had had a few decades to prepare for this interview with Wonder Woman. When I finally got the chance, the one superpower I possess kicked in–my ability to melt when the dew point hits 60. The closet thing I resembled to a superhero was Frosty the Snowman, in warm weather, two eyes made out of coal swimming in a pool of water.
I had just gotten off a delayed flight at J.F.K. Sitting at the bar waiting for Ms. Carter, wearing the same clothes I had been in for the past 28 hours, during which time I had not slept because the guy sitting next to me on the plane spent the flight jabbing me with his elbow while playing video games on an iPad, I could not be trusted to hold a door for her, much less coherently discuss her days as Wonder Woman on television, her singing gig at Jazz at Lincoln Center's Allen Room or her new recording, Crazy Little Things. Where was the bartender with that soda water I ordered?
Before he could deliver it, Ms. Carter appeared in the doorway of the restaurant, silhouetted by the noon sun streaming in from Eighth Avenue, outlined like a four-color drawing in a comic book but in 3-D.
It is fair to say that Ms. Carter, at age 59, looks as naturally stunning as she did on TV in the 1970s. Clad in a short black leather jacket over a powder-blue scooped-neck dress tailored to the knee, and wearing heels that added to her 5-foot-10-inch height, she looked as long-limbed as ever, her eyes as blue and her hair as brown-black, ready to break into the famous twirl that turned Diana Prince into Wonder Woman. Ms. Carter invented that spinning-top move when the producers of her TV show couldn't figure out how she could make the transition from secretary to superhero.
As my 11-year-old self was giving the present-day me a high five for being on the precipice of having lunch with Wonder Woman, the maitre d' led us to a corner table. Seated next to Ms. Carter, I promptly resumed sweating. It was right after the waiter delivered a cold bottle of mineral water that she told me I looked hot. Before I even had to restrain myself from saying "not compared to you," Ms. Carter shut me up by picking up the cold green bottle and applying it to the back of my neck.
"This is an old trick from movie sets," she explained in her slight Arizona accent. "There are a lot of hot lights when you're on set, and this is something that will cool you right off. Now go ahead, ask me anything," she offered, holding the bottle of mineral water firmly in place.
Her graciousness was completely disarming. After I got over my initial reaction, which was that Wonder Woman was about to break a bottle over my head, or at least pour its contents over me, all thoughts of asking her tough questions disappeared. Just like the Wonder Woman theme song says she can do, she had made a hawk a dove, although "hawk" in this case is stretching it.
I knew at that moment that I would not be asking her about her husband's trouble with the law during the BCCI banking scandal in late 1980s Washington (he was fully acquitted in 1992), nor about her struggle with alcohol (People magazine reported she stopped drinking in 2008, adding that in admitting her problem, the former Wonder Woman had "turned the 'Lasso of Truth' on herself").
I knew I would not ask Ms. Carter about those things even though banking scandals and drinking too much are subjects of great, even inordinate interest to New Yorkers, and even though her unexpected carefree quality made me wish I'd met her when she was on the sauce.
As long as she held the bottle on my neck, I had trouble asking her anything, even what it was like to sing "The Rubberband Man" to Kermit the Frog on The Muppet Show in 1980. I wish I had asked that, because when I went to see her perform at the Allen Room last Friday night, I found out Ms. Carter opens her show with that song, and that she and her six-piece band and her three backup singers hold their own against the original version by the Spinners.
I also had a question about her 1977 appearance on Battle of the Network Stars. It is for the best I did not ask that one, either, because it probably would have made her as uncomfortable as watching Howard Cosell drool over her in a bathing suit made me when I saw that show with my mother and my sister in the house I grew up in. Our living room was not a great setting in which to have what turned out to be formative thoughts about the opposite sex. Ms. Carter's 10-year spell as the spokesmodel for Maybelline Moisture Whip cosmetics was another subject I did not broach, even though back then I was transfixed by the way she said the word "moisture" in those TV commercials.
Eventually, I was able to ask Ms. Carter the kind of questions she has been asked a million times by every shmo she has ever had to meet. We talked about Wonder Woman. I nerdishly pointed out that hers is the only definitive performance as a superhero by any actor. While several actors come to mind if you mention Batman or Superman, I continued, digging myself in deeper, there is only one Wonder Woman, and she is it.
She admitted that no one had ever put it to her quite that way before, and took the opportunity to bring up Adrianne Palicki, the actress chosen to play Wonder Woman in David E. Kelley's new series, and to wish her well. I scoffed at Ms. Palicki's rubber tights and upside-down tiara headband. Ms. Carter suggested that different times demand different costumes, but that "the message of Wonder Woman is eternal."
"I see Wonder Woman in every woman," Ms. Carter told me. "I saw her in my grandmother, who was 4-foot-11 but was a force to be reckoned with. I thought I had a big responsibility when I created the character, this character that came out of a time in the 1940s when women all of a sudden got to be more independent and do things on their own. My feeling about it is that the first Wonder Woman is not going away. I'm not in danger of losing my place in history. I'm glad it's being redone for a new generation. It'll be great."
Ms. Carter's place in pop culture history is assured in more ways than one. Diana Prince-style eyewear adorns the faces of hipster girls and their avatars in American Apparel ads. Digital technology and YouTube have allowed her fans to re-edit Wonder Woman segments like the artist Dara Birnbaum did in 1978 in her groundbreaking video, Technology/Transformation: Wonder Woman, but to less high-minded ends. Ms. Birnbaum's video is in the permanent collection of the Museum of Modern Art and was featured last November in an exhibition at the Tate Modern in London, where the British arts publisher Afterall released a whole book about it, featuring color plates of Ms. Carter as Diana Prince transforming into Wonder Woman. Fan videos with titles like "Lynda Carter Looking Great in Blouses and Dresses" will never make it in the art world, but do testify to Ms. Carter's enduring appeal.
Her show Friday night at Jazz at Lincoln Center was spirited and not nostalgic. She only mentioned Wonder Woman once, to get it out of the way. Through the massive window of the Allen Room, I could see the CNN clock behind Ms. Carter while she sang songs by Al Green and the Eagles and night fell over Central Park. Onstage Ms. Carter, all in black, wore a thick black belt that emphasized her slimness the same way her Wonder Woman costume did. The numbers changed on the clock, but she seemed eternal, like the character she played when I was young.
editorial@observer.com