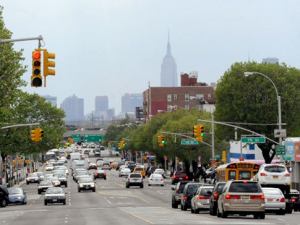 It's on. Both the Daily News and The Wall Street Journal over the weekend declared Jackson Heights as the coming Queens equivalent of Park Slope in Brooklyn. We all know what that means.
– "The Queens nabe renowned for its diversity is now seeing an influx of young professionals starting families who are getting priced out of the Slope and Astoria.."
– And, luckily, there are "plenty of chic boutiques and cafes catering to the new kids on the block are springing up along 37th Ave."
– "Jackson Heights is just a 20-minute commute from midtown on the E/F/M/R/7 trains, but seems a world apart."
– But! While it feels like the suburbs, "it's really multicultural," according to an Astoria ex-pat.
– "Today, Jackson Heights, with its historic district, large and light-filled prewar apartments and side streets lined with houses, draws a diverse cross-section of New Yorkers seeking affordability and accessibility."
– A lot of these newcomers in recent years are "young professionals … priced out of areas in Manhattan and Brooklyn."
– And! "It is also home to a sizable gay community, and the area hosts the annual gay pride parade in Queens…"
– Still: "Though the neighborhood is lush with large, private gardens, it has little public park space."
Being as cynical as we are, we read phrases such as "chic boutiques" and "young professionals" and "priced out of areas in Manhattan and Brooklyn" as harbingers of a dawn of rapid gentrification for Jackson Heights (and when there's ever an earnest discussion about the number/quality of parks/playgrounds, that's never a good sign for long-time residents). Plus, why is diversity news in New York City? It's like a bad marketing job: "We have two Michelin-reviewed restaurants, three Starbucks and lots of diversity!"
Though one wonders what took everyone so long: This paper has wondered aloud about hipsters in Ridgewood and has declared the Q the new L when it comes to the outer reaches of Brooklyn.
tacitelli@observer.com :: @tacitelli