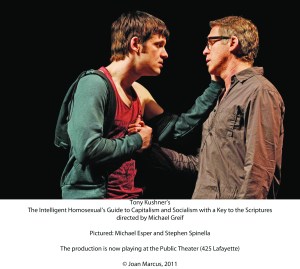 The name of the play–By the Way, Meet Vera Stark–is only the first of many subtle, clever bits of writerly business in Lynn Nottage's clever, funny and ultimately thought-provoking new comedy about race, gender and the unattractive machinations behind the glamour of Old Hollywood. In the play, which opened Monday night at the Second Stage Theatre.
Sanaa Lathan stars as Vera Stark, the smart and no-nonsense maid and confidante to the former child star Gloria Mitchell (Stephanie J. Block), once known as "America's little sweetie pie," who's grown up now and is desperately trying to hold onto a career (and hide a fondness for gin). Vera cleans Gloria's mansion, runs lines with her, gets her to work on time and then goes home to the shabby apartment she shares with two roommates. We can tell from the first scene that Vera is probably the better actress and certainly the better person–fun but disciplined, in control of herself. But things being what they were then in Hollywood (and, as Ms. Nottage no doubt wants us to realize, what they mostly still are), Gloria is the celebrity and Vera is the by-the-way.
The first act follows Gloria, Vera and Vera's roommates–wise and worn Lottie (the very funny Kimberly Hébert Gregory), who has given up on acting ("acting's giving up on me," she says, more precisely), and Anna Mae (Karen Olivo), who has snagged a date with a big-shot director by passing as an upper-class Brazilian–as they scheme to get parts in the weepy epic The Belle of New Orleans, Gloria to save her career and the three black women because it's their rare chance for a good part. "A Southern epic–magnolias and petticoats," Vera coyly tells Lottie at home one night. "You know what else it means: cotton and slaves." Lottie gets excited: "Slaves? With lines?" Slaves who get to talk is about the best they can hope for from Hollywood.
The second act opens with a scene from the film, which, we find out, went on to become a classic, thanks in no small part to Vera's moving performance and the apparent–and unusual–chemistry between black Vera and white Gloria. (Vera, and the film, are Ms. Nottage's creations, but she was inspired to write Vera Stark when she became curious about the forgotten actress Theresa Harris, who played a maid in the 1933 Barbara Stanwyck picture Baby Face.) It's 2003, and we're watching a panel discussion, "Rediscovering Vera Stark: The legacy of The Belle of New Orleans." An unctuous academic (Daniel Breaker) is joined by a pretentious professor (Ms. Gregory again) and a tough lesbian poet/journalist (Ms. Olivo). But the real point of the panel is to screen a recently uncovered interview clip, from a 1973 Merv Griffin-style show, that would prove to be Vera's final interview before she disappeared. Vera is a sight: drunk and droll, dressed in a multicolored, psychedelic, fur-trimmed Phyllis Diller number (by a "fabulous young Negro designer," she points out). She's enamored of her legacy, clearly–the movie, her bygone activism–but also sick of it. By turns proud, defiant, and exhausted, Vera is a complicated, contradictory and delightful character.
As is Ms. Nottage's play, which achieves the rare level of meta-meta-commentary–the panelists commenting on the interview commenting on the creation of the film, as depicted in the first act. All these levels give her room to explore and satirize tropes from 1930s Hollywood to 1970s television shows, from institutionalized racism to blowhard intellectuals, in tones that veer from slapstick to emotionalism to realism.
Director Jo Bonney's punchy staging underscores the artifice of all these enterprises, with scene changes that transpire as we watch. And the fine, versatile actors all play two distinct roles–Ms. Lathan and Ms. Block the young and old versions of themselves, the others specific and very different characters in 1933 and 2003.
The point remains the same: Everything is a performance, and people play the roles they have to.
It's easy enough to identify the really intelligent homosexual in Tony Kushner's The Intelligent Homosexual's Guide to Capitalism and Socialism With a Key to the Scriptures. It is, of course, Mr. Kushner himself.
The Angels in America playwright's latest epic opened last week at the Public Theater in a coproduction with the Signature Theatre Company, which is devoting this season to Mr. Kushner's work. But while Angels was epic in nearly every sense, this one sprawls only in intellectual reach, going deep into leftist and labor history. (Clocking in at nearly four hours over three acts, it also sprawls in length.) Otherwise, it's a realist, domestic drama–no masonry-destroying angels here, no operatically evil closeted lawyers–transpiring among the members of one family and over one long weekend in a Brooklyn brownstone. The Marcantonios have come together in the ancestral home, purchased generations ago, to discuss the current paterfamilias, Gus (a ferocious Michael Cristofer), and his desire to kill himself. A former longshoreman and devoted labor leader, as well as a longtime widower, he has already made one attempt at suicide, perhaps because he has Alzheimer's (as he insists), perhaps because he's bored (and at least some of his family believes), and perhaps because the causes to which he'd devoted his life–unionism, communism–are discredited and dying. Now he has agreed to abide by the family's consensus.
It's quite a family. There's Gus's daughter, Maria Teresa (Linda Emond), called Empty, a nurse turned labor lawyer, whose partner, Maeve (Danielle Skraastad), a theologian, is pregnant with their child; Pill (Stephen Spinella), his son, a high-school history teacher who's been at work on his dissertation for decades and whose partner, Paul (K. Todd Freeman) is also a theologian; Vito (Steven Pasquale), the other son, who is not a student of labor like his father and siblings but is an actual laborer, a general contractor; and finally Clio (Brenda Wehle), Gus's sister, a former nun, former Maoist and generally a seeker. There are also further complications: Vito was the sperm donor for Maeve's pregnancy; Pill borrowed $30,000 from Empty to pay Eli (Michael Esper), the hustler he's in love with; Empty still occasionally sleeps with Adam (Matt Servitto), her ex-husband, who lives in Gus's garden apartment. And Gus has put the house up for sale; it's 2007, and he believes it'll never be worth more.
But while all that domestic messiness provides the narrative engine that keeps the story moving forward–as directed by Michael Greif, who also staged this year's Angels revival for the Signature, those four hours hold your interest–none of it is the point of the play.
The Intelligent Homosexual is about expectations–from family, from society, from ideology–and whether and how we live up to them. It's also about leftism and its discontents. (The Guide to Socialism and Capitalism part of the title, cribbed from Shaw, is the key; the homosexuality is incidental.) It asks: What do you do when your God, even your communistic, atheistic God, is dead?
There are no good answers to these questions, as we know. Which is precisely why Mr. Kushner–aided by an excellent cast and Mr. Greif's sure direction–is grappling with them. But, still, it's heavy stuff, complicated stuff, theoretical and somewhat distant stuff. And regardless of your sexual orientation, it takes a lot of intellect–perhaps too much–to engage with it.
editorial@observer.com