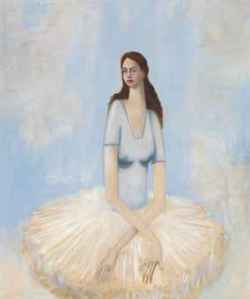 The morning after Christie's held its $301 million Wednesday-evening sale of Post-war and Contemporary art, the apex of last week's marquee auction season, you might have expected auctioneers, dealers and collectors to wake up with a queasy combination of winner's elation and buyer's remorse. The Christie's sale was the third headline event in a five-day trek through a status-art hall of fame: Warhol, Lichtenstein, Richter, Prince and Koons. Serious players, one would think, would be saving their strength for that night's–the final night's–orgy of consumption, at Phillips, de Pury & Co.
Yet at 10 a.m. last Thursday, the Christie's sale room was once again, improbably, humming with a who's who of the art world. Powerhouse Chicago collector Stefan Edlis draped an Alexander Calder necklace that would later sell for $600,000 around the neck of a slim blonde, and billionaire art addict and Christie's owner Francois Pinault kibitzed with his minions while the co-heads of the Post-War and Contemporary art department congratulated collectors with grins and hand shakes validating the previous night's trophy buys.
The evening sales historically get all the attention during New York's biannual rounds of auctions, but the day sales are where the real business of the art market is done and are increasingly where the long-term strength of the market can be accurately gauged. This May, the day sales at all three houses–Christie's, Sotheby's, and Phillips, de Pury & Co.–totaled $134.6 million, the highest figure since the financial crisis burst the art bubble. Since November, the evening sales have retrenched slightly but the daytime auctions have kept up the market momentum: average prices reached $162,000 in the day sales last week, the highest number ever (outside three bubble seasons in 2007 and 2008) and a 10% increase over November's round of sales.
The aggregate numbers tell a strong story, but individual artist records may tell an even more compelling one. Last week's day sales saw record auction prices for Robert Indiana, Marc Quinn, George Condo, Tony Cragg and Fred Tomaselli–more records than in the evening sales. Why? At the nosebleed end of the contemporary art market, where estimates range from $10 million to $30 million and above, prices have been pushed to fair value and beyond. A well-informed group, the world's top collectors are wary of getting swept back into the irrational exuberance of 2007 and early 2008.
Witness the epic 16-minute battle at Christie's over this season's top lot, Andy Warhol's first self-portrait, which sold for $38 million. Common auction practice is to use set bidding increments at every price level. Above the $20 million mark, the action usually moves in steps of half-a-million or more. During the Warhol sale, however, both bidders were making offers as small as $250,000 or $100,000–and auctioneer Christopher Burge was taking them. The winning bidder even tried at one point to get a miniscule $50,000 bump accepted. Visibly losing his patience, Burge refused.
In the auction business, they say it takes only two bidders to make a crazy price. But here were two dogged bidders making a vain attempt to minimize the damage, a clear sign of buyers' reluctance to overspend. Hardly the kind of frenzy we saw at the height of the art bubble three years ago.
"There was no sizzle this season, no pop," said veteran adviser Kim Heirston. "People are getting really smart at auction. Everyone is on the same few things; everyone knows the right price."
In perhaps the season's greatest example of day-sale buoyancy, morning exuberance rescued one of the houses from evening doldrums. Today's art market is all about a standoff between eager buyers seeking good value and reluctant sellers who want a big score, and this season Sotheby's got caught in the crossfire. The house's specialists were forced to hustle and convince consignors to take lower reserve prices–the price below which a lot cannot sell–for the works in last Tuesday's $128 million evening sale. They succeeded in narrowly averting what might have been a much greater disaster, but still the sale's low total and the below-estimate prices achieved by its headlining lots left the impression of a weak market. The house's $60 million day sale on Wednesday morning was a whole different story.