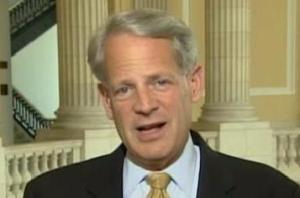 Long Island Congressman Steve Israel, who chairs the Democratic Congressional Campaign Committee, said there are three lessons both parties should learn from yesterday's special election in New York's 26th Congressional District.
"They are Medicare, Medicare, and Medicare," Israel told ABC's TopLine this afternoon.
All joking aside, Democrats are pushing the notion that the surprise victory of the Democratic candidate, Kathy Hochul, in such a conservative district is a bellwether for the public's reaction to Congressman Paul Ryan's budget plan.
Video after the jump.
"I think New York 26 tells Republicans that the end of Medicare is bad policy and bad politics," Israel said. "But if they choose not to listen to what the voters of NY 26 said last night, then I think they're going to find themselves in a very interesting battlefield throughout the country between now and November 2012."
Whether the race was actually a referendum on Medicare is slightly difficult to discern, since there was a third candidate, running on the Tea Party line. But the issue clearly reverberated in the race, and the question now is whether Republicans will be sufficiently rattled to pull back from Ryan's proposed voucher system.
Israel said there were 97 congressional districts with a higher "democratic performance index" than NY-26, and–while not all of those would be in play–he surmised "97 Republican members of Congress probably lost some sleep last night."
One seat that Israel insisted would be in play is Wisconsin's First Congressional District, which happens to be Paul Ryan's district.
"We think that we have a real opportunity in that district, and it would send an important signal to Republicans, Democrats and independents, that when your negotiating position begins at the end of Medicare, that you're held accountable for that position," Israel said.
Here's the video: