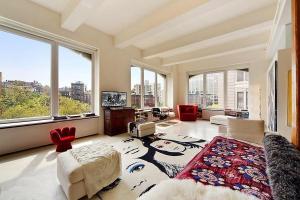 There's no easier way to own the most stylish pad in town than to inherit the home of a "world renowned fashion designer." Not only did this Nest Seekers listing used to be two separate units, but it also used to sport humdrum finishings like tile and wood.
The apartment now contains a "unique flooring," made of "a one of a kind combination of pulverized mother of pearl and cement," and then "finished off in polyurethane." The former owner's personal creation, this "lavish material" also covers several walls throughout the home. Twenty 8-foot windows and a custom crystal chandelier also help the pearly walls reflect sunlight.
To give this home even more of a glisten, "[t]he master bedroom is a magical oasis" with a neat floating tub. There are also, for some reason, fifteen custom closets, all of which can be yours for a cool $8 million.