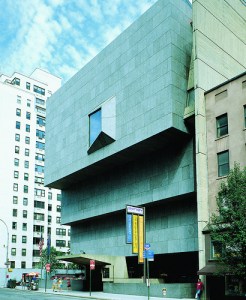 The Metropolitian Muesum and the Whitney Museum of American Art have finalized the deal that will hand over the Whitney's Marcel Breuer-designed building to the Met, the two museums announced today. The Met plans to host exhibitions at 945 Madison Avenue location starting in 2015, when the Whitney is set to open its new Renzo Piano building on Gansevoort Street.
The Met plans to use the space to showcase its extensive collection of modern and contemporary art, though Met director Thomas Campbell told Carol Vogel, "We're not taking modern and contemporary art out of our main building."
Those following the news could be forgiven for thinking the deal had already been officially announced — talk of such an arragnment has been around since the Whitney first announced its decision to move downtown. There had even been rumblings that the Met would use the new space for its contemporary collection.
The Whitney is set to break ground on the downtown location on May 24.