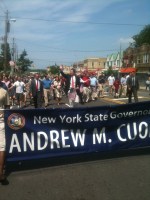 State Democratic Party Chairman Jay Jacobs proudly carried the party's banner–quite literally, at times–during yesterday's Little Neck-Douglaston Memorial Day Parade, marching alongside Governor Andrew Cuomo up Northern Blvd.
Earlier this year, The Post reported that the two were on the outs, with Cuomo looking to replace Jacobs as state chair with Cuomo's ally Charlie King, who now serves as the party's executive director.
Such a move would not be  unexpected–state chairs are determined by the vote of the county chairmen, but it is customary for a governor to want to put his own person in the slot, and Jacobs is very much an ally of former Governor David Paterson.
In an interview after the parade, Jacobs said that he was still waiting to find out about his future.
"We are going to talk about all of those things when we've got time for the politics," he said. "I think the governor has been so immersed in the governmental stuff he hasn't focused on what he wants the state party to do. Obviously I am anxious to hear what his views are. We are good friends. We get along great. I am the Nassau chair, of course, I will continue in that.  I am just going to see what he wants to do."
When Jacobs became state chairman in 2009, he had presided over a Democratic wave in Nassau County that helped flip the State Senate. Since then, however, Nassau County Executive Tom Suozzi lost his re-election and the Senate flipped back to Republican hands, with those Long Island lawmakers losing their seats in the process.
In one bright spot for Jacobs, he may have an extra Congressional seat if Peter King goes through with his threat to run for president.
Jacobs said he wasn't sure the prospect of President King was worth flipping one Congressional seat, even in his own backyard.
"There is a good piece to that for me," he said. "It opens a seat for Congress. That's the one positive. I don't know if the trade-off is worth it. He is quite a character in Nassau County."