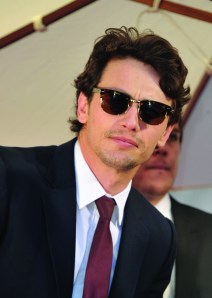 James Franco looked moderately maniacal. The actor-cum-renaissance man arched his eyebrows and leaned on his knuckles against a table at the Stella Adler Studio on Sunday as he explained to the Transom his goals for the first performance of his experimental theater piece "Collage."
Pounding on the wooden surface, he cited Rancière, Brecht and Artaud-playwrights who aimed to "break up expectations of what a theatrical experience should be like."
Mr. Franco had assembled a group of NYU students to bring life to his directorial vision. They were costumed in 50's-era fashion (polka-dot skirts, etc.) and acted out scenes from A Streetcar Named Desire, Angels in America, and A Doll's House. The actors were filmed by six on-stage cameras, footage from which was projected onto screens above the stage. Every member of the audience received a digital video camera to record their own perspectives, "so you're all in this with us," Mr. Franco said. The project is ultimately destined for a museum, Mr. Franco told the Transom.
Also on-stage were a punk band, and dancing: sock-hop grooves and stuttering ballet. The kids' faces contorted in mock confusion while they danced, as though befuddled by their bodies' involuntary movements.
Mr. Franco's input during the show amounted to a series of instructions or remarks growled over an unseen microphone: "Torvald, listen." "Louder!" "Do this right, Nina." "Are you a homo?" And "Hmm!" [in a pleased way as Stanley raped Stella in a climactic Streetcar scene].
"What we can say about James?" wondered performance artist Marina Abramovic after the show. She'd been invited along with Terence Koh and MoMA's Klaus Biesenbach. The three sat together in the front row. She turned to Mr. Koh. "Let's say, 'I love that he experiments and he was really, you know, in his skin.'"
"'Like John Cage,' right?" Mr. Koh said. "'Like a new, 21st-century John Cage.'"
"'He's a great bridge between Hollywood and completely alterative,'" Ms. Abramovic said.
"'Minimalism,'" interjected Mr. Koh.
At the end of the performance, the stage went completely dark. "All right, like," Mr. Franco rumbled over the speakers, "it's over now."
"Good job, kids," he added as the lights came up and they assembled for a bow. "Don't worry about The New York Observer. We don't give a fuck."