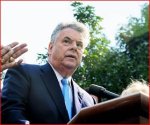 House Homeland Security Committee chairman Peter King announced today that he will hold hearings examining the state of security in the wake of the killing of Osama bin Laden.
"At this hearing, the Committee will examine the near-term and long-term consequences and benefits to the security of our homeland resulting from the successful killing of al-Qaeda's founder and top leader," King said in a statement. "While the removal of Bin Laden from the battlefield is certainly a victory in our war against al-Qaeda and its affiliates, it also means increased risk of retaliatory attacks against America by bin Laden supporters, just as we have seen recently in Pakistan."
The hearing is King's first as chairman of the committee since his controversial investigation into the radicalization of American Muslims earlier this year.
This hearing seems a bit made for TV as well, with two of the witnesses–Frances Townsend and Evan F. Kohlmann serving as cable network terrorism experts, and third Peter Bergen, a frequent guest on talk shows and news programs in his capacity as bin Laden's biographer.