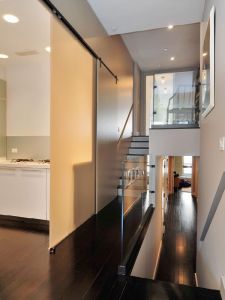 What a week for Derek Lam! His new capsule collection for eBay has been flying off the electronic shelves since it went on sale Tuesday, and now city records reveal Mr. Lam has been doing some shopping himself. The San Francisco-born designer bought a fashionably renovated loft atop 92 Greene Street at the end of April, according to a new deed, paying $4.65 million for the 2,177-square-foot spread.
Mr. Lam bought the condo with his business partner and muse Jan-Hendrik Schlottman, and their arrival brings a bit of old Soho back into the building, in contrast to the newly arrived finance types. Among those rank are the sellers, Amy and Steven Randich–he is the chief information officer for Citi's institutional

businesses–who now list an address in Westport, Conn. They were among the first cohort of buyers when the building went condo in 2007.
Through some clever design work by Laura Kirar, a fifth-floor duplex has been turned into a switch-backing triplex, with a master suite stacked above two bedrooms on the Mercer Street side of the home and a double-height living room. These lead, respectively, down and up into the double-height living room. The loft, which had been asking $4.975 million, was available furnished with art from Alon Langotsky and a Paul Frankl cork & iron table, along with Brazilian hardwood floors and a fancy fireplace. "Sophisticated designer triplex located on a magnificent cobblestone street in Soho," says Tom Doyle's Sotheby's listing. "Loft offers city living at its best."
Best of all, Mr. Lam can still walk to work at his Crosby Street studio, though he now must travel an extra block to get there–city records show a former address at 60 Greene Street. He snapped his new home up about as fast as one of his dresses gets bought. It came on the market Feb. 12 and was in contract 28 days later, according to StreetEasy.
Read past Manhattan Transfers here. >>