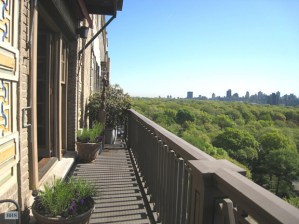 Though he is the No. 2 executive at Comcast, Stephen Burke actually made more money than his boss Brian Roberts for the past two years, with his 2010 compensation topping out at $34.74 million. Mr. Burke was promoted to run Comcast's recently acquired NBC Universal unit, so naturally he would need a crash pad closer to 30 Rock. Putting some of those millions to use, he and wife Gretchen Burke have just purchased a penthouse at Harperly Hall, the 1910 Arts and Crafts beaut at 41 Central Park West.
The home happened to belong to another television executive, Geraldine Laybourne, the founder of women's cable station Oxygen Media–which was sold to NBCU for $925 million. Add $11.75 million to that receipt, the price the Burkes paid for their new roost, according to city records. These guys sure love Ms. Laybourne, who now lists an address in Rhinecliff, N.Y.
The eight-room, terrace-surrounded spread was listed by Brown Harris Stevens' Norah Burden last April for $14.5 million before being cut to $11.75 million in September, according to StreetEasy. In December, the neighbors saw an opportunity, and 11F was offered with Ms. Laybourne's 11AG for $15 million. Then, a week later, 11B decided to get in on the game, throwing its unit into the offering and upping the price to a whopping $27 million for the 19-room giant with seven bedrooms. "For the first time since Harperley Hall's completion in 1910, the entire 11th floor on Central Park West including a magnificent deep wraparound balcony spanning more than 150 feet, is being offered for sale," crowed Ms. Burden's listing.
Yet, even if Mr. Burke makes more than that in a single year on the job, it proved more apartment than he needed. Instead, he gets a four-bedroom, three-bath crashpad with loads of original details, including a terra cotta foyer, oak paneling covering the walls and ceilings, beams throughout and an unusual octagonal dining room. The terrace offers a prime 75 feet of Park frontage, perfect for watching the sun rise. From here he can keep an eye on 30 Rock without even leaving the house.
Read past Manhattan Transfers here. >>