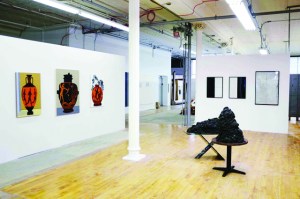 Trying to prove that Los Angeles is an art world center second to none, as the organizers of "Greater LA" have done by bringing the work of several dozen LA artists to a loft on lower Broadway seems, at first, like an unwitting irony. So does proposing that a center can be "distinctly horizontal"–i.e., decentralized. It's either an unwitting irony, or it's very LA.
Much of the show's art, in fact, is "distinctly horizontal" in its sunny lack of inquisition, appropriating images as if they were not a medium of expression but the very thing to be expressed. Alex Israel arranges a cement replica of a Roman copy of a Greek statue, a row of battered steel lockers, a massage table and other objects rented from a working prop house. (The juxtaposition of a model human spine with a bottle of Yves Saint Laurent eau de toilette borrows the famous title of Piet Mondrian's last painting, Broadway Boogie-Woogie.) Brian Kennon's … and Milk is an inkjet print arrangement of LA art magazine covers, and Drew Heitzler superimposes three layers of found video footage of sailors, seagulls and motorcycles. Others explore but don't penetrate: Justin Beal wraps two large mirrors in opaque stretch wrap; and Ruben Ochoa uses a photoshopped hologram to put a gap in a highway retaining wall–depending on where you stand when you view it. Anthony Pearson, on the other hand, explores the surface of penetration with two large, minimal black photos of the handsome white circles produced by pricking a hole in a camera shutter.
Dennis Hollingsworth begins to pierce the image with three brightly striped, shinily varnished abstract paintings. In So, a queasy, off-center juxtaposition of grays and greens hints obliquely at a body, somewhere, that could be uncovered. And in Standing Room Only, secondary stripes are pockmarked with tiny holes, decorated with icing-like rosettes of paint, and marked with what look like huge open sores. Jonas Wood, meanwhile, meets life in a prison of precedent with a self-aware sense of humor: in three charmingly awkward, deceptively vivid paintings, he gives us ancient Greek vases in earnest, paper-cut-out perspective. Two Attic-red soldiers fight to the death under a canopy of green Marimekko leaves; three naked men jog; and Hercules brandishes his bow at an eight-headed hydra.
Or maybe the joke is on us, and using New York as an imprimatur for LA means New York has already reached its apotheosis, from mere city to omnipresent deity. The centerpiece of "Greater LA" –it dominates the temporary loft space — is Sterling Ruby's enormous stack of Minimalist rectangular yellow blocks, Cop, Cop, Cry, Cry, Cop, Cop. It hulks uneasily around iron columns, which, decades after art moved to New York from Paris, and millennia after it moved from Greece to Rome, still have Corinthian capitals. Soho was the center of the international art world in the 1980s, but maybe New York has now grown so many heads–Los Angeles, Abu Dhabi, Miami, Berlin–that its body is beside the point.
In his "New Paintings" at Mary Boone, David Salle combines beach furniture and restful teal water with close-ups of half-naked women in decoratively fuckable shoulder stands for an effect that vividly realizes the essential claustrophobia of fantasy. It's no accident that most of the women's sexual organs, despite their positions, are not visible, but are rather displaced onto empty, drifting canoes.
The Mennonite Button Problem is divided horizontally into two equal sections. The upper register shows a postcard vista of two Adirondack chairs facing a beachscape; a few low purple hills drift like clouds across the horizon. The picture's lower portion shows a trio of models in dark rooms, one with a green shirt over her head, one in a taut, resigned shoulder stand–she's the only one whose face is visible–and a third, also naked below the waist, stretching her back. In The Wave, a single model in a wide copper bracelet presents her bottom to the viewer; her eyes are shut, her face is turned away; a bright green wave sloshes across the bottom edge of the canvas. A much smaller, rectangular canvas, inset astride her left buttock, shows the tip of an empty red canoe, nosing forward toward the hills. In still another pictorial underworld, another model writhes beneath a grisaille depiction of tangled branches. A lightbulb is mounted in the middle of the branches, and a velvet rope of the kind used to guard exclusive nightclubs is attached to the canvas beneath the model, like a teasingly blank smile; superimposed across the model's body in transparent gray capital letters is the name of the painting: Camus.
Questions, questions. What makes fantasy claustrophobic is not that its vistas don't go anywhere–on the contrary, no matter how far they've gone, they can always keep going. It's that they never get anywhere. In Que Penses Tu, Beau Sphinx? Mr. Salle finally shows us his hot dog–with mustard, naturally–but it's sitting on the floor beside another model. It doesn't quite make the canoe.
editorial@observer.com