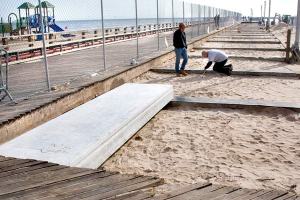 After decades of destitution, the new Coney Island is finally taking shape–and as usual, just as many people hate it as love it. New rides, new condos, new aquarium and now a new boardwalk, if it can be called that.
This fight first surfaced in the fall, when the Parks Department proposed replacing the iconic wooden walkway with a concrete causeway. The community was nonplussed–what's a boardwalk without boards–so the city tried two solutions before settling on its latest proposal, which people don't love but will have to do.
Parks wants to replace the boards because they are expensive to maintain and occassionally dangerous as a result. The preferred path by nostalgists was composit planks, but the city wanted room for cars. Now, a concrete strip will run down the middle between the fancy boards.
The locals are still befuddled. "This is violating the one piece of solitude in a city that's already a concrete jungle!" Friends of the Boardwalk founder Mike Greco declared at a public meeting last night, according to Courier Life.

"These slabs are hideous," Brighton Beach activist Ida Sanoff told The News. "They make you dizzy when you look down them. They make baby carriages and walkers and strollers and wheelchairs shake, rattle and roll."
As if that were not problem enough, the Siren festival has been cancelled, the new thrill rides are obscenely expensive–four for $42 bucks!–the water even seems extra salty. Disney, indeed.