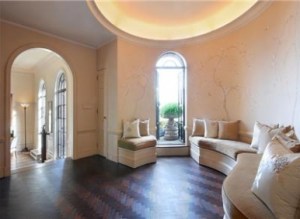 While it may not have a book written about it, 778 Park Avenue is just as grand at its sister down the block. John Hess, James Robinson and William Lauder all call Rosario Candela's red-brick wonder home, and of course Brooke Astor and the Buckleys used to. (Vera Wang was here, too, before trading up to 740 Park, so maybe that really is the better address.) A new neighbor could soon join their regal ranks, as the five-terraced lookout on the 18th floor has just gone to contract–under what may be unfortunate circumstances.
Irving and Judith Shafran purchased the nine-
room, full-floor spread for $6 million in 2000, when Gloria Gurney swapped it for the smaller penthouse for $4.2 million. Mr. Shafran is a matrimonial attorney and Ms. Shafran is a book editor who was once married to the head of the Henry Schein Company, one of the nation's largest pharmaceutical manufacturers. They put their home on the market for $24.5 million in December 2009, exactly one year and one week after Bernard Madoff was arrested by the FBI.
The couple had invested with the notorious Ponzi schemer, as SEC documents or a cursory Google search reveal. Listing agent Robert Shulman of Warburg said he was unaware of the Madoff matter. "I have no knowledge of that, I was simply asked to sell their apartment," he told The Observer, adding, "They're very private people."
The four-bedroom, four-and-a-half-bath home took three price cuts since coming on the market, before settling at $19.5 million, and the prospective buyers are said to be paying close to that. Not a bad investment, then. "It's small, but only relative to everything else in 778 Park," a broker who has sold units in the building said. "But it's in great condition, which is rare for one of these buildings, and it has fabulous views and terraces."
The nest needed a lot of work when the Shafrans moved in, according to Mr. Shulman, but they hired Mariette Himes Gomez to decorate, restoring Candela's grand flourishes, such as the mahogany-panelled library and a dramatic rotunda-like foyer. There is a small roost on the 19th floor, as well, which Mr. Shulman bills as an airy office or gym, as well as a total of five terraces. Due to summer work rules, the job took two years.
What really sets the place apart is its perch. "I think in Mr. Candela's architectural wisdom, he made the smaller setback floors at the top of his buildings, they're a gem, they have such light and views," Mr. Shulman said. "You can't find it in most buildings on Park, and even the new buildings in the city, the mix of light and architecture. And that's what's selling right now, light and air and views."
One small issue remains: getting the buyer by the board. As The Observer reported last month, the guardians at 778, like so many co-op boards around the city, have tightened their standards, which caused at least one buyer of the famed Astor duplex to be turned down. With everything the Shafrans have been through, may the board be lenient.
Read past Manhattan Transfers here. >>