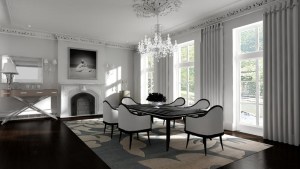 "Doing historic townhouses is basically the same as doing a piece of antique furniture, only bigger," George Agiovlastis told The Observer last week. The artist-turned-antiquer-turned-home restorer had just sold his third revamped townhouse, 38 Grove Street, for $14 million, according to city records.
Not bad for a former hobby, and quite profitable, too. Mr Agiovlastis purchased the 21-foot-wide redbrick beauty in October 2007 for $6.9 million, and then undertook a $3 million renovation. It had

been divided up into five apartments, but the builder gutted the place and began a meticulous renovation based on clues found in the home.
"I love 19th-century architecture, so I didn't want anything modern, except for certain amenities like the kitchen," Mr. Agiovlastis said. "Basically, if I was living in 1851, what would I have done?"
That meant the three original fireplaces were cleaned and reinstalled, scraped free of paint and grime. Chintzy daisy molding that may have been historical was replaced with something more tasteful, if still period appropriate. "I didn't want it to look wrong," he said. Mr. Agiovlastis even went so far as to take basin stands he found in the house but that were too short­–Americans are getting bigger!–and had them recast 25 percent larger.
Behind a facade of expertly matched brick–500 are new, but it's impossible to tell–and a reconstructed stoop lies six bedrooms and seven baths, as well as nine working fireplaces. Mr. Agiovlastis said his favorite feature might actually be the backyard, which looks like Greek garden.
"This was not going to be one of those homes with a terrible double-story glass wall in the back," said Mr. Agiovlastis, referring to some of his overly modern neighbors. Jack of all trades that he is, Mr. Agiovlastis also brokered the sale. He said the buyer was a South American hedge fund manager. He also said he is preparing to close on his next project
Read past Manhattan Transfers here. >>