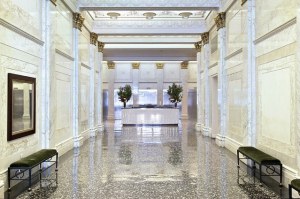 It's looking rather post-Lehman at 25 Broad Street these days (even though the failed investment bank is still involved). The first 10 tenants have signed at the mammoth downtown residential tower of erstwhile Kent Swig fame.
Recall, Bruce Menin and his partners bought the 20-story office building for a dime in the late '90s, before converting it into rental towers and selling it to our pal Kent Swig for $200 million. The Big Swig turned the FiDi palace into the world's largest bachelor pad, with a night club, health spa and decor that would make Hugh Hefner cringe. Meanwhile, he never got final approval for the conversion and not a single condo ever closed, while a few of Mr. Swig's pals hung out in the units for bargain rates, while the Menins maintained a residence in the penthouse upstairs.
Mr. Swig defaulted on the mortgage in 2008, and Lehman foreclosed. They've appointed LCOR to manage the turnaround, investing about $40 million in converting it back to rentals, fixing the plumbing and disposing of the more unsightly decorating touches.
One-bedrooms start just above $3,000 a month. The owners have just received approval to begin renting units this week, and, behold, have already taken 10 baby steps toward filling those 300 units, LCOR's David Sigman told The Observer this afternoon. All of the tenants who've signed so far are couples or families–befitting of its over-sized units. But, really, we're just waiting for Anna Wintour's minions to come calling.
lkusisto@observer.com