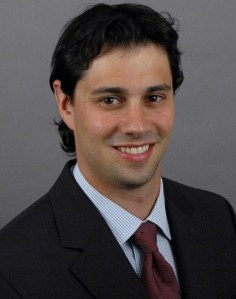 Welcome to the latest installment of our ongoing interview series, Meet the Neighbors! Brian Morgan was named Rookie of the Year in 2006, after leaving the film industry for Citi Habitats. Now a vice-president at the firm, he also finds time to run a bar with his two brothers and a non-profit to help underprivileged kids–what are you doing with your commissions?

Where do you live?
I live at the Gramercy Starck–a new construction condo built in 2007.
How is work these days? What is your latest deal?
Work is extremely busy. I'm closing on a two-bedroom at 4 West 21st Street this afternoon. I closed two others this month and have three more that are in contract. I am also busy on the rentals side, but my amazing team member Morgan Turkewitz handles all of my rental transactions.
What was the best meal you've ever eaten in New York?
Il Mulino. You have to call about a month in advance to get a reservation but it's well worth the wait!
What was your first apartment like?
Many of my friends graduated college before me, so they found a convertible-three in Hells Kitchen. As soon as there was an opening, I jumped on the opportunity to live in Manhattan. My room was the size of a closet, but I didn't care. My portion of the rent was only $600 a month so as long as a bed could fit I was happy.
What is your recession war story?
I had money saved so I really wasn't that worried, as I was confident that the Manhattan real estate market would persevere. I didn't get discouraged that I wasn't doing deals. I just kept working hard and stayed in touch with all of my customers. It was a scary time, and I understood their fears as there was so much uncertainty at that time. I continued to keep them informed while they waited the crisis out. When the market shifted, the fear began to subside and they revisited the marketplace. I wound up doing 6 deals in June of 2009 as a result.
How do you get around town?
I usually take mass transit to get to and from my appointments. If the appointments are close to one another we usually walk, otherwise we will cab it. If a buyer comes in from out of town on a Sunday and we are going to be all over Manhattan I'll often get a car service as parking is very tough on Sundays.
What is your favorite building in the city and why?
I guess I'm biased, as I love where I live. With my hectic schedule, having a gym in my building was crucial, and the Starck offers one of the best gyms in Manhattan. We also have a billiards room, a movie theater, two roof decks and a fantastic staff.
If you weren't a broker, what would you be?
I'd be a writer/producer. It's my dream. Whenever I'm not doing real estate I'm working on my script.
What is your dream home?
A chalet at the top of China Bowl in Vail.
You just won the lottery. What store do you stop by and what do you buy?
I'd call my two brothers, have them come by our bar Traffic for a round of beers and an order our famous Mac and Cheese Bites to celebrate. Then I'd quit my job and work with my charity Kid-Care full time.
If there was one thing you could change about New York, what would it be?
I would make it cooler in the summer and warmer in the winter.
Correction: An earlier version of this article referred to Mr. Morgan as Brian Miller. The Observer regrets the error.