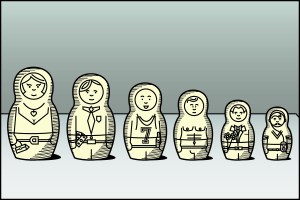 If you want to join us in the new romantic order, you must first accept this: You live in a postdating society.
There will be no dates.
There will be "nondates"–ambiguous drinks, overwrought g-chats, cheeks unexpectedly flushed over coffee with a co-worker. You will not have a boyfriend, but your inboxes will overflow with text messages, BBM's, Facebook messages, re-tweets and DM's. There will be sex, if and when you want it. And New York City, which once seemed to you a sprawling set piece for a romantic pas de deux, will be superimposed with interlocking, virtual webs of liaisons–and, at the center of each one, a woman and her smartphone.
This is the idea behind "The Gaggle," a multimedia dating franchise created by Jessica Massa and Rebecca Wiegand, proprietors of the dating blog WTF Is Up With My Love Life?
Ms. Massa and Ms. Wiegand, both in their mid-20's, coined the term the Gaggle to describe the romantic arrangement they observed their peers adopting in the face of "hook-up culture."
Instead of dating individual men consecutively, just long enough to be disappointed by one before seeking out the next, women increasingly maintain ambiguously romantic relationships with a galaxy of orbiting fellows, each of whom fulfills a specific role–an intellectual soulmate, a professional plus-one, a fuck buddy, an ego-stroking admirer and so on–without being, in himself, a complete partner.
The Gaggle, as the concept's inventors explain on their blog, is "a means of dealing with the ambiguity and embracing the lawlessness" of contemporary relationships. Distribute the labor of love among a group of good-enough guys, the theory goes, and never feel lonely again.
This utopian psychic terrain will be mapped in a new book, to be published by Simon & Schuster in the spring of 2012. Ms. Massa is currently on the road conducting her research. New Line Cinema snatched up the movie option before the book proposal was even sold, and a screenwriting team, Emily Cook and Kathy Greenberg, is busily pounding out a script. (The duo collaborated on Gnomeo and Juliet and Ratatouille, and Ms. Greenberg co-created The L Word.)
The Gaggle's appeal derives from the way it takes a common problem (a chaotic and bewildering sex life) and rebrands it as a solution (an affirmation of management expertise and have-it-all brio). By cleverly appending a label to each of the various men one is already seeing–The Hot Sex Prospect, The Ego Booster, The Career Booster, The Accessory, The Boyfriend Prospect, The Unavailable Guy–the Gaggle offers women a ready-made sense of accomplishment. That Ms. Massa and Ms. Wiegand founded a marketing firm to support the Gaggle and other concepts is unsurprising.
"It codifies something that I think is common practice," cultural theorist Laura Kipnis told The Observer. "Your friends provide emotional support because your boyfriend is an emotional moron but he's good in bed, and office romances provide the romance factor when you've been married for 20 years."
The Gaggle provides clear-cut rules for breaking the rules, and it does so in the familiar language of female empowerment, turning what was formerly viewed as whoring around into one of the seven habits of highly effective women. "Rather than thinking about how many guys there are in the world who just aren't that into you (and feeling judged and hurt in the process)," the authors suggest on their blog, "you can now commit to living your busy and exciting life while recognizing that, yes, there are actually men in it!"
Former sex columnist and novelist Amy Sohn saw that as a heartwarming message.
"It says, 'You are worthy of love, and you should recognize that people love you and take care of you,'" she told The Observer. "Maybe what it's speaking to is that women want to feel better about themselves and they want to recognize the richness of their lives."
At a birthday party in a downtown bar recently, The Observer described the phenomenon to a pretty and popular acquaintance, a web developer. The 21-year-old clasped her hand to her mouth in recognition. The young man seated beside her stared blankly. She changed the subject.
We called her later, and she said the concept did in fact seem to describe her love life. "I have the Guy I'd Like to Be With in Theory, the Guy in D.C., the Destructive Guy," she said.
And the guy in the bar? He was the Guy in the Bar.