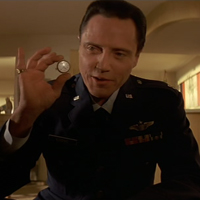 As a rule, guests at New York parties do not usually eat hors-d'oeuvres; trays waft back under people's noses and no one ever touches a bite. But guests at the Vanity Fair party for the TriBeCa Film Festival on Thursday night broke their own rules and couldn't seem to get enough of Michelin-starred chief Thomas Keller's truffle and bacon sandwiches, smoked salmon tartar cones and caramels shaped like tiny Pokémon heads.
Even famous health fanatic Rupert Murdoch was seen to grab a few while standing with his wife Wendi, who wore tremendously fetching turquoise blue sheath dress. The cocktail party was held outside the State Supreme Court House and the crowd milled around enjoying the balmy late spring weather.
Christopher Walken is well-known for his ability to play crusty, stern military men, most notably in the Pulp Fiction sequence about the consequences of hiding the family jewels in…well… the family jewels. But has he served his country for real? Walken was put on the spot about his military career by friends and ex-marines Scott Glenn and Harvey Keitel. Mr. Keitel and Mr. Glenn, wearing exactly the same black shirt and black blazer combo, shared a moment of man love and had a hearty hug before Mr. Keitel shouted, "A fellow Marine – we have to stick together!" Mr. Keitel called out to Christopher Walken standing nearby, "Hey, Walken were you in the Marines?" Taking a long sip of red wine, the slightly ashen actor replied with a smile, "I was but no one ever believes me." (The Observer had a look and it appears that Walken never actually served in the armed forces.)
His friend and fellow actor, Scott Glenn did serve, and told us he was discharged from military service on November 22nd 1967, "Which was a pretty interesting time to be in the marines." Mr. Glenn was both a judge at the festival and as well as promoting a movie he was featured in called Magic Mountain. "I was in three movies this year, one had a budget of $100 million, another was $35 million and the one at the festival was just $600,000." When asked if he preferred Independent movies or studio ones, Mr. Glenn replied, "If money wasn't an issue, I would always choose Independents but studio films pay the rent."
Grayon Carter presided over his party in a natty green-checked spring tweed coat for the occasion. Other attendees included: Salman Rushdie paying hooky from his duties as the president of the PEN awards, Oscar award winning director Tom Hopper seen leaving with new squeeze Tara Subkoff and Robert de Niro surrounded by a huge and immovable crush of fans.
dprince@observer.com