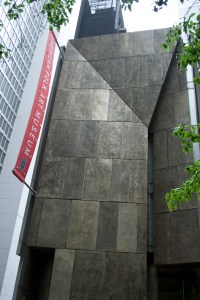 Architect Billie Tsien had taken her husband and collaborator Tod Williams on a birthday trip to Europe last Wednesday, but even there she couldn't escape media grumblings that the couple's design for the American Folk Art Museum somehow contributed to the institution's failure to repay its debts. Last week, the museum sold the building to its next-door neighbor, the Museum of Modern Art (MoMA), and critics were quick to say the structure itself was the root of the museum's problems–its façade was off-putting, its galleries awkward and cramped.
Naturally, Ms. Tsien disagreed. She and Williams had been rooting for the museum, which will move back to a smaller space on Lincoln Square.
"One would see crowds lining up outside Folk Art, getting ready to go into MoMA," she said on Mr. Williams's cell phone from the streets of Antwerp. "And that was a little sad because I wished some people would have turned into the Folk Art Museum."
"It's just a very small animal that has lived next to a very different, very large animal," she continued. "I don't know whether you would say that MoMA ate it or not. I hope it's more that it adopted it rather than eating it, but … " She paused as if considering the unlikely nature documentary in which such a thing might actually happen. "We'll see."
The museum failed on 53rd because it couldn't fund-raise against the $32 million in tax-exempt bonds it took out in 2000 for construction. But if the museum didn't work next to MoMA, where could it hope to succeed? As it turns out, MoMA's purchase of the building was as woven into Folk Art's history as a thread in a Shaker quilt. The present building opened in 2001, but Folk Art began its life on 53rd street in 1979, when the charismatic young trustee Ralph Esmerian negotiated the purchase of two townhouses on what would eventually become the site of the Tsien-Williams building from the Rockefeller Brothers Fund. At the time Blanchette Rockefeller was president of MoMA, so the building had been offered to MoMA first; MoMA had only just begun its slow expansion westward, so it passed. But right of first refusal for MoMA, should the building be sold in the future, was written into the deed.
During this period, Folk Art presented exhibits in a temporary space farther down the block. Shortly after the purchase, a banner was strung across the two decaying townhouses reading "Future Home of the Museum of American Folk Art."
"That was a daily reminder of the museum's intention. We all saw it as we came in and went out," said former director Gerard Wertkin, who joined the staff in 1980. "This was very much ingrained in the culture of the institution."
The museum weighed many options for building the space, including a plan from Emilio Ambasz in the 1980's that would have placed the exhibits below ground and an office building above to help defray the costs of construction and maintenance. Mr. Esmerian–who would go on to be the museum's chairman-cum-chief benefactor and, still later, arrested for jewel fraud–rejected the design out of anger that Mr. Ambasz had published it in an architectural magazine.
"It was a great irony because if they had done what I'd advised, they would have got the money to continue," Mr. Ambasz said. "They wouldn't have any problems."
At the time, several buildings separated MoMA and the designated space for the Folk Art Museum; it would be years before the "tense," as Mr. Wertkin describes it, period when the Modern "began to see this as an ultimate place for expansion."
"Had the Folk Art Museum been ready to do something at that time, the Museum of Modern Art would have actually welcomed us to the block," Mr. Wertkin said. "They were very, very helpful to us, exceedingly so, in those first years. In a whole variety of ways they provided advice. Their attorney consulted with me, it was all friendly."
By early 1996, MoMA began to publicly plan its expansion, just as Folk Art moved ahead with its own construction. In March 1997 the Modern announced the 10 architects who had made the short list for its renovation. Mr. Williams and Ms. Tsien were on it, though New York magazine wrote them out of the running as "too 'warm and fuzzy' for MoMA."
Folk Art announced that it had selected the pair in October 1997, just two months before MoMA announced its own selection of Yoshio Taniguchi, though Mr. Wertkin said MoMA's upcoming expansion hadn't factored into Folk Art's decision to move ahead with construction.
"We did anticipate that the block would become even more of an interesting place and that more and more people would find themselves on the block," he said. "And that some of them would find themselves in the Folk Art Museum."
Asked if he felt like Folk Art was joining a burgeoning museum neighborhood, David Davies, a trustee at the time, chuckled. "That's putting it mildly," he said. "You can't top the location. The closer you got to MoMA the better you'd be, I assumed."
The hype was inescapable: subway ads referred to a "Midtown Museum District" encompassing MoMA, the Museum of Arts and Design (MAD) and the Folk Art Museum. On the occasion of the Folk Art groundbreaking in 1999, Councilwoman Christine Quinn, who represents the block, said, "Having this museum right here next to MoMA really sends a message about how important this art was, and is, to the country."
If a digestif of self-taught art after MoMA's feast sounds absurd, the idea of a museum district isn't. Art galleries in Chelsea benefit from clustering on "power blocks," and the strategy has worked for museums in other cities.
The MoMA block is still a hot commodity. Until recently, Milan's Triennale Museum had plans to open a branch across from MoMA at the site that was MAD's home from 1986 to 2008. The Triennale announced the plans with a lavish dinner last year whose invitation touted MoMA's proximity in the first line.
Those plans have since been scrapped due to financial complications, but maybe it's just as well for the Italians–MAD director Holly Hotchner didn't express great fondness for the site. "Our board had the impression that people came to us because [MoMA] was there and I'd actually say it was the opposite," Ms. Hotchner said. "Opposite is too strong a word but it did not increase our attendance, being on the block of MoMA."
"Our banners were all obscured by everyone else's," she added.
Her museum saw no change in attendance when MoMA relocated to a temporary site in Queens from 2001 to 2004. Since moving to Columbus Circle in 2008, her visitor numbers have tripled, from some 140,000 per year to 500,000.
In researching its new home, Folk Art often used MAD as a case study. Ms. Hotchner told those issuing Folk Art's bonds that their projections for attendance figures were overly optimistic–225,000 visitors for 2005, in reality it was half that–but added, "It didn't affect their bond so there it was."
Studies put admission at only 10 percent of annual revenue, but nobody wants to fund an institution without visitors. (Folk Art garnered 160,000 people in 2009, while MoMA got 561,471 for its 2010 Marina Abramovic show alone; total 2009-10 attendance at MoMA was 3.09 million.)
It may be that the audience for folk art is limited, but the museum's exhibits weren't always hard sells. Doesn't everyone like Henry Darger, the Chicago janitor who kept his colorful, fantastic dreamscapes locked away? That show and others were well-reviewed–though the Darger may have been a two-steps-back situation, as its borderline pedophilic aspects were said to have offended Wal-Mart heiress Alice Walton, who had been considering a donation.
"I think it's common knowledge that the MoMA overwhelms anything that surrounds it," said a current trustee who joined the board after the building opened. "That's why the Museum of Arts and Design moved away and got better attendance numbers, but that did not cause [the building's forced sale]."
The Folk Art Museum's decision to build on the block was ultimately a self-perpetuating one: the building inspired trustee donations and those donations kindled support for the building. "We were an institution for which a six-figure grant was a big deal, and we were getting seven-figure grants for the building," Mr. Werktin, the former director, said. "It was heady, it was exciting."
In the mid-90's, the makeup of the museum's board shifted from people like Mr. Davies, an ad man with a passion for weather vanes, to supporters from the glitzier worlds of finance and law. There was always overlap between the boards of the Modern and Folk Art museums, but now even the demographics were similar. Laura Parsons, the current Folk Art president, is the wife of Citigroup's Dick Parsons, who serves on the MoMA board.
MoMA, was hardly rooting for Folk Art's failure. But there wasn't much benefit to being on the block. Talk of a triple admission with MAD became impossible without MoMA's support. The only real collaboration was a 2004 gift shop sale.
Why should MoMA go out of its way to associate with either museum anyway? "They were the 500-pound gorilla," Ms. Hotchner said.
Mr. Williams and Ms. Tsien's design, it's worth remembering, was well-liked at the outset. They couldn't know exactly what MoMA's Taniguchi renovation would look like; nevertheless, they strove to play off of it in their plans, and earned the "Best New Building in the World" Arup Architecture Award in 2002, and a glowing review from the Times' Herbert Muschamp.
He changed his mind, if Jerry Saltz is to be believed. The New York magazine art critic wrote last week that Muschamp, before he died, "sighed to me that I was 'probably right' to dislike the building."
"I suppose one always looks for something to blame," Ms. Tsien said from Antwerp. "[But] I think that the total value was really very good for what they got. It's essentially this iconic building but it truly was not an iconic price. To me, it's a little silly to say what is to blame. I think the more important thing is to say what happens next."
dduray@observer.com