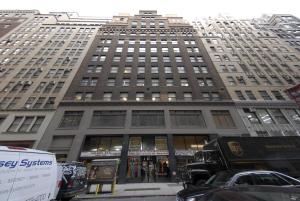 253 West 35th Street
Could it indeed be true that the grungy Penn Station office market is getting a second chance? At minimum, a tenant named, yes, Better Chance has leased 9,600 square feet for 10 years at 253 West 35th Street.
The national organization dedicated to helping academically talented youth minorities will move from just across the street. "They had a small space across the street, but they needed some additional space," said Adams & Co.'s Alan Bonett, who represented the landlord, along with Nicholas Zagar. "They liked that it's a full floor, and they could move in with some modifications, but it wasn't a gut job." Lisa Holyfield and Marjorie Torres of Concrete Stories represented the tenant.
Another tenant, USA Studios, has also leased 9,600 square feet for 10 years. Messrs. Bonnett and Zagar represented the tenant, while Marvin Shulsky, of Shulsky Properties, represented the landlord in-house.
The asking rent was $27 a square foot. In total, the building, which is debt-free, has leased five floors in the last six months, with one floor still available.
lkusisto@observer.com