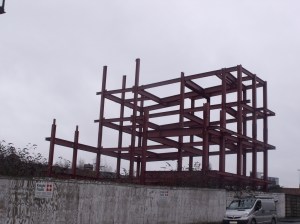 As real estate prices in the city, or at least in Manhattan, approach pre-Lehman levels, and the wider economy teeters back from the brink, the guys who built the apartments are still suffering. According to a quarterly report from the New York Building Congress, employment for construction workers fell to its lowest level since 1998 during the first three months of the year.
Even with demand rising, as the remnants of the boom are bought up, the credit markets are still tight, making it hard for developers to find financing for new construction. This is why the one sector that has seen growth over the past three yeas is heavy construction and civil engineering, due to the expansion of publicly funded infrastructure projects. (Who says the stimulus was a bust!)
Overall, construction employment has fallen 25 percent from its peak in the third quarter of 2008, smack in the middle of the Lehman collapse. At the time, there were 136,000 construction workers employed in the city, compared to 101,200 last quarter. The last time things were this bad was the second quarter of 1998, when only 99,000 people were working construction.
According to the Building Congress, wages have actually risen slightly, from $49,249 last quarter compared to $48,392 in the first quarter of 2008. How this will factor into the coming labor negotiations, when developers are expected to use the recession to gain leverage over the labor unions, is unclear.
"The construction industry historically lags the broader economy," Richard Anderson, president of the Building Congress, said in a release. "We are one of the last to feel the effects of a downturn, as well as one of the last to recover. In this respect, a drop in employment is not too surprising in and of itself."
One cause for concern, though? The Observer's favorite economic indicator, the AIA Architecture Billings index plummeted last month, as well, according to numbers released yesterday. Nationally, they fell from 50.5 in March to 47.6 in April, where a reading over 50 means architect's billings of clients are rising and anything below means they are falling.
That said, billings for the Northeast region continue to stand above 50, after spending January and February in declining territory. If this trend continues, it will still be six to 12 months before architects' drawings find their way through the system to the jackhammers and welders of the city, but at least the worst might finally be over.