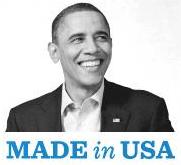 What a difference a month makes.
After the White House released President Obama's long-form birth certificate a few weeks ago–in an attempt to quell the persistent rumors about his birth–Obama's re-election campaign is now hawking t-shirts poking fun at the controversy.
The front has a picture of Obama smiling over the caption "Made in the U.S.A." and the back has the long-form birth certificate Obama released earlier this month.
Yours for only $25. (Hat tip to Ben Smith.)