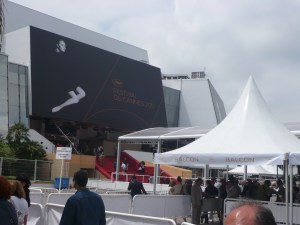 One of the best parts of the Cannes Film Festival is seeing movies in the Marché du Film, the marketplace where filmmakers pay neighborhood theaters to exhibit anything and everything – and a handy way to tell people that your film screened in Cannes without actually having to face a quality-conscious selection committee.
Today's buzzed-about title was Unlawful Killing, a delightfully lurid re-examination of Lady Diana's and Dodi Al Fayed's fatal 1997 car accident directed by actor-turned-director Keith Allen (songstress Lily Allen's father). It made recent headlines in the UK press for using an unpixelated image of Diana's dying body (which turned out to be a fleeting, blurry B&W image far less gruesome than anything on CSI).
"I'm not a rabid Republican or a Trotskyite," said Allen in his brief remarks to the audience before the show. He even claimed that the film wasn't as sensationalistic as people might think. But nor was it even-handed, as you might expect from a production bankrolled by Dodi's father, Muhammad Al Fayed, who is even shown burning the royal crests in a bonfire adjacent to his son's mausoleum.
Ostensibly an "inquest of the inquest" that took place in 2007, ten years after the Paris crash, Unlawful Killing reels off a litany of legitimately fishy behavior by most of the main players in the tragedy. Di's slow ambulance took almost 90 minutes to get her to a hospital, at which point she was beyond rescue; the driver's "biologically inexplicable" blood sample refutes the assumption that he was "drunk as a pig"; all the CCTV cameras monitoring the Paris tunnel were oddly and conveniently turned off when the accident occurred. Allen's extreme verdict: the monarchy ordered MI6 to mastermind a hit job and then enforced a royal omerta to hide their tracks. "They're gangsters in tiaras!" declares one wag.
Juicy and almost gleefully slanted, the film offers no authoritative objective voice, preferring instead to run clips of Howard Stern, Kitty Kelly and Piers Morgan dishing rumor and innuendo. It brings on a clinical psychologist who, based solely on secondhand study, declares Prince Philip to be a psychopath (this, after referencing Philip's Nazi relatives, his appetite for adultery and his wish to be reincarnated as a deadly virus). Meanwhile, excerpts of video interviews with Lady Di show her as near-angelic. "Somebody's got to go out and love people," she says in one of her many earnest cri de coeurs.
It's too bad that Allen goes for the jugular, because there's ample reasoned evidence pointing to foul play, not to mention sheer neglect from the fourth estate. Allen sent a mole into the press room to spy on the reporters sent by British outlets: bored and biased royal correspondents instead of actual legal journalists, who doodled and wisecracked their way through the three-month court hearing and then complained when the jurors deliberated for a week. Verdict: a film with admirable intent but wildly uneven execution (no pun intended).