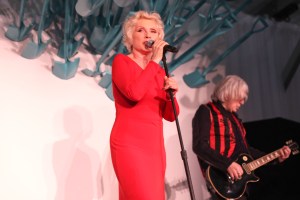 If your Facebook page suddenly starts displaying Blondie tour dates, it might be because pop sensation Debbie Harry has taken it over.
"I know your Facebook password," Ms. Harry breathed into the mic somewhat threateningly, improvising lyrics during her band's performance of "One Way Or Another" at the annual Whitney Museum spring gala and Art Awards last night. Ms. Harry, who was looking very Marilyn Monroe in a blazing red gown, was perhaps intent on letting her audience know that middle-aged rockers are not out of sync with social networking.
Blondie played in a tent on the site of what, in a couple years' time, will be the Whitney's new home, a Renzo Piano building at the base of the High Line. Above the stage on which the band played hung lines of turquoise-colored shovels, signifying the museum's groundbreaking next Tuesday morning.
For guests including dealer Mary Boone, hotelier Andre Balazs, Whitney board chair Brooke Garber Neidich, and the evening's honoree, Marissa Mayer of Google, Harry, introduced by one time tennis great John McEnroe, belted out oldies but goodies like "Call Me" and "Heart of Glass."
Gala attendees, seated at tables that ran some $25,000 apiece, were relatively immobile during Blondie's set, but a few brave souls – dressed in hipster-ish attire, they seemed somewhat anomalous at the upscale gathering — got up to dance. "I saw some booties shaking out there," Ms. Harry said approvingly. "Even the ones that were trying to hide it."
As to the question of whether the end of the world tomorrow will necessarily spell the end of Blondie, the answer appears to be a firm "no." Sorry Apocalypse, the band has other plans. "Chris wants me to talk to you about the rapture," Ms. Harry sighed to her well-heeled audience, referring to her band mate. "But it's Saturday, so we're taking off, we're going to be in a plane, so I don't think it's really going to apply to us."