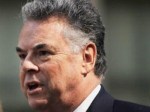 Peter King appeared on Fox and Friends this morning, and continued to stoke the speculation that Rudy Giuliani will run for president.
"At this moment he is very much inclined to run," King told host Gretchen Carlson. "As of now he very much wants to run and this time he would focus on New Hampshire and that's where his main emphasis would be. Right now there is no candidate who is articulating the message Rudy would have—really tough on security, both homeland security and national security and he has a proven record of cutting spending and cutting taxes and bringing New York City back."
King was also asked if he was running for president, and said it was the Nassau G.O.P. he put his name forward.
"I am not taking my name back but obviously, if Rudy jumps in then I would support Rudy," he said. "But if not, I will see what happens."
Take a look: