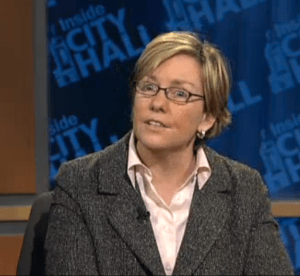 New York Times Metro Editor, Carolyn Ryan, on New York 1 News.
According to Carolyn Ryan, The New York TimesMetro Editor, there's been a change in the way Mayor Michael Bloomberg has been treated in the press.
Since leaving the Boston Globe for The Times in 2007, Ryan said the press used to be "remarkably deferential to the mayor, even a little docile." Now, there's "more truthsquadding, and a bit more bite."
Albany, she said, is a different story.
"My sense is that the press – other than Fred Dicker – is a bit puzzled about how to cover Cuomo," Ryan said, in an email interview last night [links are mine].
Here's Carolyn Ryan:
Azi Paybarah: Cuomo is skipping the LCA show this weekend. Is that a news story? Why is he doing it? Is it working?

Carolyn Ryan: I know this is a frivolous subject, but I find it fascinating. Maybe the Cuomo administration should start releasing a schedule of events the goverrnor will NOT attend rather than those he will. (Dinner at the White House? Skipping it.)

It's also interesting because it is such a contrast to Mayor Bloomberg, who has gamely plunged from the ceiling in a Spiderman suit and unflattering harness at the Inner Circledinner. But while Cuomo seems genuinely to be a homebody, the mayor, of course, likes parties. And the mayor is, let's face it, a bit of a hambone.

Azi Paybarah:How much appetite is there for front page news about Cuomo? Bloomberg?

Carolyn Ryan: For obvious reasons, the front page has been dominated in great degree by international news in recent weeks. But the Times views both Bloomberg and Cuomo as figures of national significance and interest, and any stories that can offer something fresh and insightful or surprising about either man would have page one potential.

Azi Paybarah:How would you describe the state of political coverage in New York, and City Hall right now?

Carolyn Ryan: My sense is that the press – other than Fred Dicker – is a bit puzzled about how to cover Cuomo.

Meanwhile, reporters have become more aggressive and skeptical of the mayor. I don't know if that is simply a natural evolution, given that Bloomberg is in his third term. But it is striking to me, because when I first arrived here (in spring of 2007) the press, broadly, seemed remarkably deferential to the mayor, even a little docile. Now, especially in the tabloids, there seems to be tougher analysis, more truthsquadding, and a bit more bite.

Azi Paybarah: How has the Times interaction with the administration (in City Hall and Albany) evolved?

Carolyn Ryan: We have certainly had some stormy moments. But we're hoping the birth of the baby hawk on Friday brings us all a little closer as New Yorkers.

Azi Paybarah:What coverage, other than the Times, do you enjoy reading?

Carolyn Ryan: Politicker.

And then, if I have time, the Post, the Daily News, the Journal, Politico, Capitol Confidential in the T-U, Marc Ambinder in the Atlantic, Shouts and Murmurs in The New Yorker. I glance at the Voice, Curbed, the Real Deal. I like Real Clear Politics because you get a quick shot of the empirical (polls) and the analytical.

I love to read neighborhood weeklies, though some in my area have become a bit generic. I can't stop clicking on the "Soxaholix" website, which can be literate and can be raunchy but fully captures the extreme emotional vicissitudes of being a Red Sox fan.

And I am trying to figure out DNAinfo.

Azi Paybarah:What advice do you give reporters about using Twitter, where they, more or less, publish information directly, without an editor.

Carolyn Ryan: I think Tom Kaplan and (Times Atlanta bureau chief) Kim Severson offer good role models. High volume, generosity toward colleagues, real-time disclosure of reporting you can share (which is not exclusive), and glimpses of their (occasionally) glamorous assignments.

Azi Paybarah: And, I heard you're in a book club (I won't give up my sources). What are you reading?

Carolyn Ryan: Book club, sadly, is on hiatus…But because it is baseball season, I just finished a lovely little book that Jimmy Breslin wrote about Branch Rickey, and I am now savoring Dan Barry's "Bottom of the 33rd." I just started a biography of John Cheever, not so much because I am a huge admirer of his but because he grew up not far from me, and the book captures a particular species of human (old New England Yankee) that is vanishing.

Everybody tells me I should be reading "Unbroken." But I am in the market for fiction, if anyone out there has recommendations, bring em on.