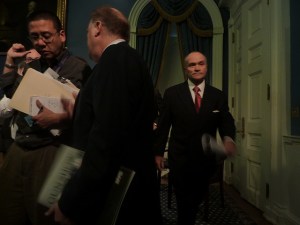 About half an hour after the Times posted this extended City Room item about Congressman Peter King backing Ray Kelly to become the next F.B.I. director, President Obama announced he was supporting a two-year extension for the current director, Robert Mueller.
Mueller's 10-year term was scheduled to expire in September, and the administration had been conducting a high-level search to find a replacement.
In his statement, Obama said he believes "continuity and stability at the FBI is critical at this time."
Kelly seemed to be an obvious candidate given his stewardship of the NYPD, and he had some high-level backers in King–who chairs the Homeland Security Committee and also sits on the Intelligence Committee–and senior Senator Charles Schumer, who is the number three Democrat in the Senate leadership, and speaks with the White House rather frequently.
Kelly has deflected questions about the prospect of succeeding Mueller.
It's unclear exactly how Congress will react to the president's request, though Mueller has generally enjoyed broad support on Capitol Hill.
Here's the president's statement:
"In his ten years at the FBI, Bob Mueller has set the gold standard for leading the Bureau. Given the ongoing threats facing the United States, as well as the leadership transitions at other agencies like the Defense Department and Central Intelligence Agency, I believe continuity and stability at the FBI is critical at this time. Bob transformed the FBI after September 11, 2001 into a pre-eminent counterterrorism agency, he has shown extraordinary leadership and effectiveness at protecting our country every day since. He has impeccable law enforcement and national security credentials, a relentless commitment to the rule of law, unquestionable integrity and independence, and a steady hand that has guided the Bureau as it confronts our most serious threats.  I am grateful for his leadership, and ask Democrats and Republicans in Congress to join together in extending that leadership for the sake of our nation's safety and security."