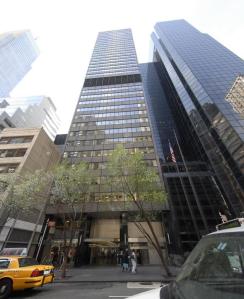 110 East 59th Street
We can't tell if it's the pre-Lehman asking rents or the prescription pharmaceuticals, but it's a little dizzying atop Jack Resnick & Sons signature tower abutting Park Avenue.
RP Management, the investment manager for pharmaceutical royalties firm Royalty Pharma, has inked a 10-year lease for 13,284-square-foot on the entire 33rd floor. The firm was previously a subtenant in the building, where asking rents on the fully-leased top floors are $100 a foot.
Financial giant Cantor Fitzgerald relocated its world headquarters to New York, landing in Bloomberg's former space in the 37-story blockthrough tower. Karsch Capital Management and Mason Capital Management also have offices there.
Michael L. Goldman and Daniel Posy of Studley represented the tenant; Dennis P. Brady represented the owner in-house.
lkusisto@observer.com